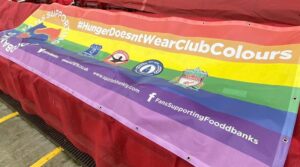 It was a blustery day outside Goodison Park as Everton prepared to welcome Leeds United in a big clash at the foot of the Premier League table – but gusts do not deter Dave Kelly and his now-iconic purple van from turning up at the ground.
Since October 2015, Dave has done this after forming the Fans Supporting Foodbanks initiative alongside Robbie Daniels and Liverpool's MP for Liverpool West Derby, Ian Byrne.
Initially, the charity – in association with both football clubs and the north Liverpool foodbank – collected food outside of the grounds with the hopes of filling up carrier bags and making a difference in their community.
More than 233 consecutive fixtures later, the charity has witnessed a phenomenal growth in both size and influence. It has grown to become a nationwide effort amongst fans of the nation's favourite sport, even transcending the borders of England to reach Scotland and Northern Ireland.
The award-winning charity has received donations to the size of £47000 and on Saturday received a £1,000 donation from Unite The Union. During the pandemic, the organisation raised a staggering £185,000 despite setting a target of just £10,000. They had hit the initial target in just 48 hours.
For Dave, and for many foodbanks, donations are vital to keep these selfless charities going; -and by extension, the people who access them in their communities.
Dave spoke about how even just a single tin can or a bag of food can be the difference between a child or an elderly person going hungry that night.
Dave is chair of the Fans Supporting Foodbanks organisation and understood that people may feel embarrassed about accessing a foodbank. So rather than try to say, "It is what it is…", the group thought outside of the box to try and remove any embarrassment people may feel.
The result is that anyone who accesses the charity pays £3.50 to become a member and thus they can receive up to £20 worth of fresh meat, vegetables and fruit as well as the option to vote in the events and community activities FSFB runs – which also in line with the FSFB desire to remain rooted in the grassroots of their neighbourhoods.
The aim is to try and invoke pride from those accessing FSFB, as they are giving back to the group and their area.
Dave expressed bewilderment and anger at the concept of zero-hour contracts, questioning why society allows a type of work that sees people being unsure of when they will work and thus unsure of how much money they will earn.
He further criticised the system by talking about work poverty (something that affects 59.9% of people according to The Health Foundation) in a modern society.
Criticism was levied at the government, for their furlough scheme as he believed 80% was not enough and also at major companies who waste food daily that could be donated.
For the FSFB, they do not believe that foodbanks are the answer and their mission statement is actually to be closed down, as the ending of the charity would indicate that the poverty issue has been solved.
Donations can be made at any Liverpool FC and Everton FC home game – just keep an eye out for the purple van!
Online donations can be made by scanning this QR code on the camera of your phone: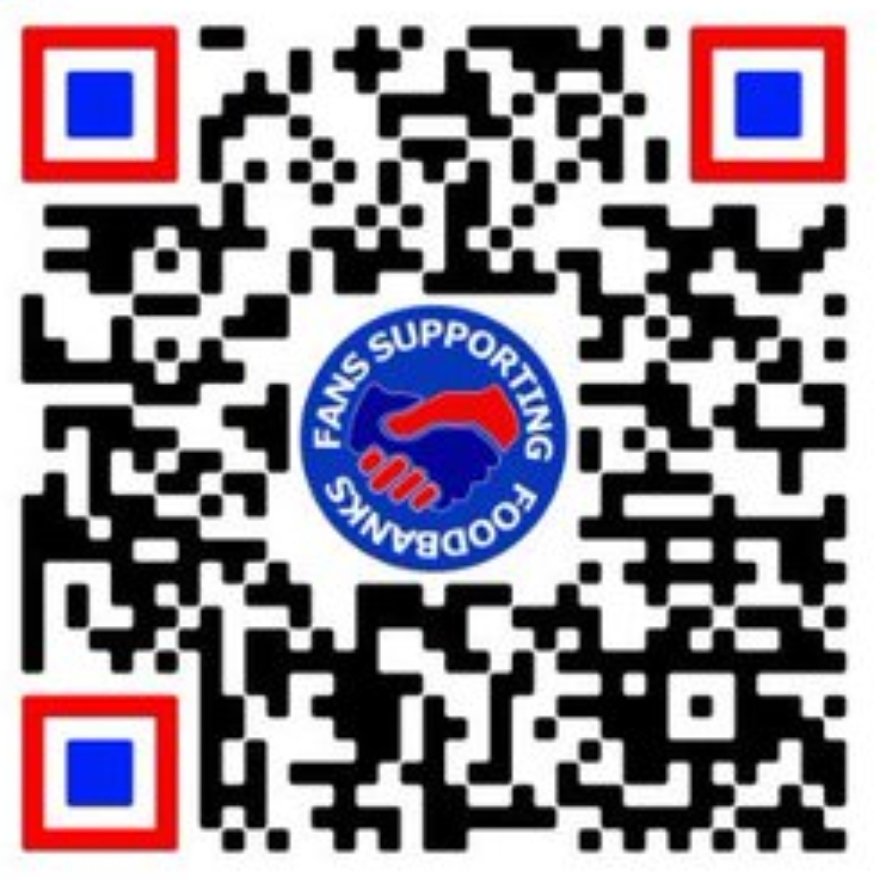 The group can be followed at:
Facebook: https://www.facebook.com/FansSupportingFooddbanks/?locale=en_GB
Twitter: @SFoodbanks
Additional reporting by Matthew Oliver Welch
Featured image (c) Fans Supporting Foodbanks