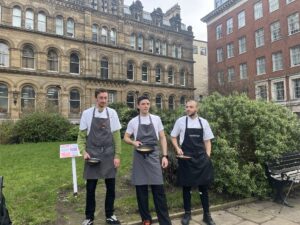 The Liverpool City Pancake Race is a flipping feel-good event, bringing together local chefs, hotels and restaurants who all complete for glory.
Pitting the city's top cooks against each other to create the perfect pancake lap, the race originally dates from the 1980s, and was revived in Liverpool in the 2000s.
Today's race saw the start of a year of special events to celebrate and platform Liverpool's hospitality industry. The team behind the festival are promising a "delicious year"' for the city's busy calendar.
The annual event began the Shrove Tuesday celebrations at St Nicholas' Gardens on Chapel Street, opposite the Liver Building, at 11am this morning.
The Rector of Liverpool, the Revd Dr Crispin Pailing, said: "I'd like to think that competitors have been training all year for this, but winning this prestigious race has as much to do with your pancake recipe.
"Although it is a bit of fun, the history of pancakes reminds us about the start of Lent, which is a special time for Christians as they prepare for Easter."
Four chefs – from Hotel Indigo, Ma Boyle's, Artists Club and Lunya Lita – took part in the race.
With a pan and pancake in tow, the cuisine competitors gathered raring and ready to for the 11am start. Rules state that the pancake must be thick enough to withstand the outdoors, light enough to be flipped cleanly while running, and must not fall from the pan.
After two laps of the parish church, the winning chef is presented with an engraved pancake pan to display proudly in their kitchen for their year of victory.
At 11:56 am, it was revealed the winner was second time champion, chef Alex Hopkins, from Albert Dock restaurant Lunya Lita.
Reporter Jazmin Dawson has more on the "flip side" of the fun in her video report below:
Featured image (c) MerseyNewsLive