A St Helens dog-owner has warned others to be vigilant after her puppy needed lifesaving surgery – following a fall from a couch.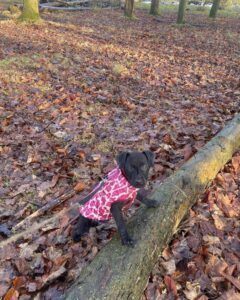 Angela Middlehurst, 49, was watching TV with her husband and Patterdale terrier, Blaze, when her son, returned home.
Six-month-old Blaze ran to greet him and jumped off the 12-inch high sofa too soon before he was able to catch her. She "cried out in pain" as soon as she fell and was "unable to walk immediately afterwards".
Angela immediately took Blaze to the vets where an X-ray found Blaze had broken both her knees, causing them to need pinning back in place.
If the surgery cannot be performed the vet explained Blaze's legs will grow to be deformed and cause her severe problems so she would need to be put down.
Now Angela wants to warn other dog owners to be extra vigilant when taking care of puppies.
She said: "It's a million-in-one thing that could happen to anyone, so please remember to be careful with puppies, their bones are delicate like babies, you think they are all rough and tumble, but they are more fragile than you think."
Angela is asking people online to help raise money towards a lifesaving operation for her six-month-old "little baby girl".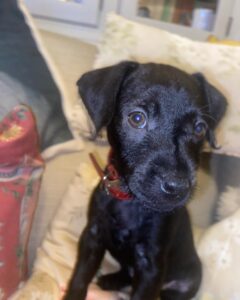 The operation will cost £3,210 and Angela cannot cover the costs alone. Her target is to raise £1,000 on Go Fund Me towards the surgery.
Angela said: "Blaze is so loving and all she wants to do when she sees you is kiss you to death to show her love. She is the most loving little dog we have ever had".
The cause has so far raised £105 with eight donations.
One of the contributors, Michelle O'Neil, said: "Oh, what a terrible thing to happen… such a beautiful little doggy… you can see why she melts your heart."
Angela claims she is "praying for a miracle" and urges anyone who can spare a few pounds to help them towards their goal.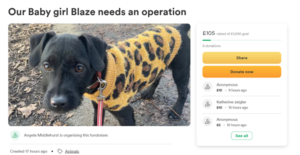 Featured image © Angela Middlehurst