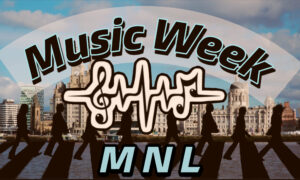 Liverpool is renowned for its incredible arts, music, and culture scene – it's home to the biggest UK band of all time, The Beatles – and with a legacy like theirs it's no wonder local musicians want to follow their dreams too.
It is no secret that the music industry is one of the most competitive and brutal in the world, with 90% of artists never making it 'big'. So what happens to those musicians who just want to make a living out of performing?
Ben Paveley, lead singer of Juniper Music. said the biggest issue facing local musicians is the "misconception that singing is not a full-time job", with people assuming it is a hobby and therefore artists shouldn't get paid.
Local duo Sean and Jasmine added that it is not about what you know but who you know. But they said that the hospitality industry in the city is well connected and once you have your foot in the door, the offers can fly in.  
Watch Chloe Bush's video report here:
It can be scary for musicians to go out there and book gigs themselves and often booking a gig through an agency is the standard approach – but how do you know which ones to trust?

GigPig is a free platform that helps connect artist to venue with the intention of helping hospitality venues to grow their businesses with live music while giving artists control over when, where, and how much they are paid to play.
Michael Forster, co-founder and CEO, said: "Every year the hospitality sector is forced to pay millions to access the live music market, while artists are forced to give away a large portion of their earnings to third party agents.
"We built GigPig to put control of the UK's live music scene back in the hands of venues and artists, allowing any venue to offer live music in just a few clicks and creating new work opportunities for artists.
"By removing barriers to entry, GigPig will help democratise and grow the UK's live music scene, providing venues with a cost-effective way to increase revenue and giving artists a reliable way to earn a good living gigging."
Established in 2022 by musicians, venue managers and entertainment agents, the company already partnered with 500 venues and 3,000 artists across 12 cities in the UK. So far GigPig claims to have saved venues £300k on booking fees and helped artists earn £700k.