Liverpool glam-infused rock band Mexican Dogs are set to headline the O₂ Academy in March.
The band have been championed by BBC 6 music, Radio X, BBC introducing and Planet Rock Radio. They have performed at the venue before as support, and have also played multiple music festivals and London's 100 club.  
Band Members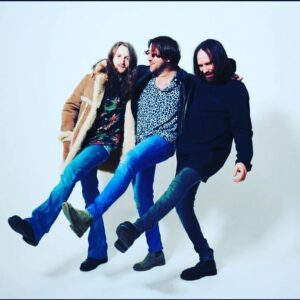 Comprising Gaz Wilcox (ex-Bribes), Carl Rooney and Sonny Winder-Rodgers, the band formed in 2021 and have supported The Zutons at Liverpool International Music Festival (LIMF.) They signed to Fretscore records in 2021.  
Their music is described as glam-infused-blues-rock.   
They are set to perform with The Zutons again at Bootle Music Festival on Saturday June 10.
More about the gig 
Their headline gig takes place on Friday March 31 at the O₂ Academy, and will be supported by bands Woo and AMBEDO BLUE. 
Wilcox said: "At the minute we're getting geared up, because it's a headline show it's going to be an hour set, previous gigs we've been supporting bands like Cast.
"They're usually only half an hour, which we call a power half hour set, where we just try and cram as many tunes in as possible. We're going to be showcasing some new tunes as well."
He added: "We're working closely with a producer at the minute, we're definitely going to be recording in the next couple of months. We want a single out around June this year and then just kind of drip feed a few singles after that."
The event has been organised by concert and festival producers EVOL. 
Wilcox added: "It's gonna be electric, it's gonna be big. We're looking forward to playing some new stuff as well and seeing how they go down."
The group are also also supporting local 90s band Space Saturday Feb 25 at the O₂ Academy in Sheffield. 
The band's debut EP, released in 2022, can be streamed on Spotify.  
Those interested can also watch their music videos on YouTube. 
Tickets can be purchased on See Tickets and Ticketmaster.