Staff and students at Liverpool John Moores University have held a friendship event to provide support for students affected by the story of Brianna Ghey, the Warrington schoolgirl who died on Saturday.
Two 15-year-olds, a boy and girl, have been charged with Brianna's murder.
They appeared at Chester magistrates court today (Wednesday) and were remanded into youth detention and are will appear before Liverpool Crown Court tomorrow.
Brianna was a transgender girl and, despite rumours of bullying, police investigating had initially said there was no evidence to suggest her death was "hate related".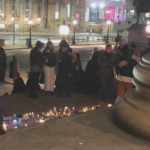 However, despite the case not currently being ruled as a hate crime, it has reopened the conversation surrounding the harassment and violence trans people are still facing today. 
Following her death a number of trans support groups such as Stonewall UK have reported their condolences and a vigil was held for Brianna last night at St Georges Hall organised by her friends and members of the Liverpool LGBTQ+ community. 
The LJMU friendship event was organised by Sarah Maclennan, but the idea came from a member of the LGBT+ community in the university.
Sarah Maclennan said: "On our student wellbeing page it says 'You are never alone at LJMU' and I feel very strongly that we need to send out that message."
For students needing help, she said: "In place we have our student support services and we have a daily drop-in in the student life building from 10-4, Monday to Friday.
"We have an LGBTQ+ society run by the Students Union who have channels on Instagram, Discord and Twitter."
Specialist groups can also provide support for anyone affected by this issue.
This includes THE Action Youth Group at YPAS, Spirit Level Transgender Support Group and the NHS Trans Support Service. 
Sarah's advice to students that wish to show support for the trans community at this time was: "Be a visible ally.
"Provide strength for those who may be frightened, be inclusive – those micro affirmations are so important.
"It's micro affirmations such as smiling at someone, or asking them to join your seminar group that makes them know they are welcome."
"I think that's important for any marginalized group, but particularly for trans people," she said.