Reporting by Sarah Westhead and Jack Ryder
A Liverpool restaurant is pulling together volunteers to support a donation effort for those affected by the catastrophic earthquake in Turkey.
People arrived at Anar restaurant, Prescot Road, Fairfield, to show their support today, with more donations than anticipated.
Ozgur Gulasik 39, who is helping to run the donation effort, said: "We weren't expecting so many donations, we are quite overwhelmed."
Mr Gulasik also said that restaurant customers have been handing him cash when seeing the effort and so far they have raised almost £1000.
The death toll from the earthquake on Monday is still rising, with more than 11,000 believed to have died in Turkey and Syria and 300,000 left homeless.
Donations started coming in yesterday morning.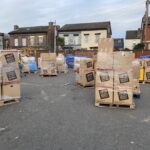 A Turkish Airlines flight will be transporting the donations on Friday morning, but Anar are hoping to arrange their own truck to transport the extra items.
It is currently winter in Turkey, so many of the items being donated are blankets and clothes as many people are dying from the cold.
Government struggling to provide support
Several people at the restaurant have a personal connection to the tragedy.
Mr Gulasik's hometown of Maras is one of the largest areas hit by the earthquake and the restaurant's manager, Kemal Aslan, is currently in Maras helping to rescue people in any way he can.
Mr Aslan has been going into the rubble and helping people escape and Mr Gulasik said that he is literally doing everything possible.
As volunteers were working this morning some were discovering that they had lost family members.
Due to the magnitude of the earthquake the Turkish government is struggling to provide necessary financial assistance.
Volunteer Dilan Zorba, who has family members stuck in Turkey, said: "There is absolutely no help for villages and there are a lot of them."
If you would like to donate to Turkey, please click on the following links for the following organisations:
sktwelfare.org/…ls/syriaturkey-earthquake
Syria and Turkey Earthquake Appeal