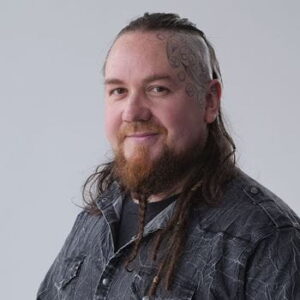 The Media Production Department at Liverpool John Moores University is back with another 48-hour film challenge for students.
The entries will be screened at the Odeon Liverpool One on February 9.  
Wez Nolan, the program leader for Media Production at LJMU, has lived in other cities that have had similar events before bringing it to Liverpool.
Open to all LJMU students, the very first challenge was at the Liverpool Arts Bar with only three teams. Since then, the event has only got bigger.
Wez said: "The cinema was almost full and it's amazing for all the students to see their work on a screen.
"You had people get dressed up and give a little speech which was fun. You have these little prizes on the line as well as industry judges"  
Named after an old '80s movie called Another 48 Hours, the challenge starts with everybody suggesting a line of dialogue which goes into a generator and gives genre suggestions.  
The teams then hit a button which gives them their own line of dialogue and genre. They then have 48 hours to submit a brand-new movie.
"The reason we give the genre and dialogue on the day is so you can't submit something you've already made. It must include those things and it must be a fresh piece of content," said Wez.   
'Some people have had teddy bears because they couldn't find actors'
The previous winners included a Scouse version of Lord of The Rings. Despite the different categories, it seems to be comedy that performs the best with the audience.
"These only so much production design, writing, scripting and editing you can do, so it's very aware of itself.
"For example, if it's going to be tacky then how do you play to the tack? If you do something Western you stick on moustaches and have your cowboy hats.
"Some people have had teddy bears in their house as characters because they couldn't find actors. All this mad stuff happens with a 48-hour challenge." 
In addition to the fun side of the challenge, Wez believes that there are a lot of benefits for the students taking part. As well as looking good on the students' CV in a world where employers are interested in work outside of university he believes that it will help to demystify the entire process of making a movie.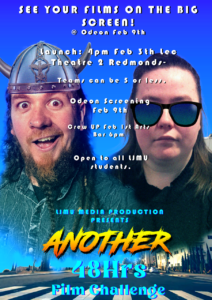 "It's a strange thing I've seen some of the most creative work from students during the 48-hour film challenge.
"It's only two days when normally on a program you will have two months and I think when people have that long to think about something they just catastrophise and make it a bigger deal then it is.
"If you just go out there and have zero experience as part of the team most people, come back saying they've had loads of fun and learnt something. 
"A mistake that I made as a student was that I just waited around for features when what I should have been doing is making 30 second movies or one-minute movies and building on my skills that way.
"Instead, I just waited around to do a feature which is crazy – it doesn't work like that."  
Featured image (c) LJMU