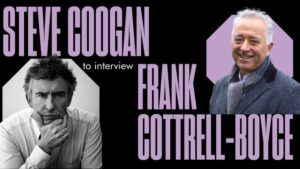 Join the exciting reunion of comedian Steve Coogan and writer Frank Cottrell Boyce this weekend to mark 20 years since the release of the classic comedy '24 Hour Party People.'
Steve Coogan, famously known for playing the role of Alan Partridge, is set to interview the award-winning author at Shakespeare North Playhouse in 'An Evening with Frank Cottrell Boyce.'
The Shakespeare North Playhouse recently won The Stage's 'Theatre Building of the Year 2023' award.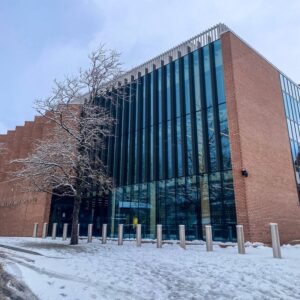 Steve and Frank have worked together on several projects, including '24 Hour Party People', which Frank wrote, and Steve starred in one of the main roles. Most recently they worked on the ITV drama 'Stephen' about the Stephen Lawrence police investigation.
In 2015 Frank Interviewed Steve in a three-part radio 4 documentary 'Knowing Steve, Knowing You.'
Originally from Rainhill, St Helens, Frank is well-known for his children's books. His novel 'Millions' won the CILIP Carnegie Medal – a literacy award that recognises one outstanding children's book every year.
Frank is the author of 'Chitty Chitty Bang Bang Flies Again', 'Cosmic', and 'The Outstanding Broccoli Boy'.
He is also known for writing the memorable opening ceremony for the 2012 London Olympics, which saw the Queen apparently leap from a helicopter, James Bond-style.
'Frank Cottrell Boyce is one of my favourite people'
Many of his books have been shortlisted for a multitude of prizes, including the Guardian Children's Fiction Prize, the Whitbread Children's Fiction Award (now the Costa Book Award) and the Roald Dahl Funny Prize.
Frank said: "I'm extremely excited to have this chance to talk with the mighty Steve Coogan in the thrilling surroundings of Shakespeare North. We can promise you an evening of wisdom, insight and funny voices."
Steve Coogan will himself be the next in a string of well-known interviewers for Shakespeare North Playhouse's 'Evening with …' events. Previous hosts have included Johnny Vegas, Jimmy McGovern and Angela Griffin.
Steve said: "Kind and clever! Frank Cottrell Boyce is one of my favourite people, and the best thing to come out of Liverpool since the M62. So I jumped at the chance to talk to him about his life and work at Shakespeare North Playhouse. Book early to avoid disappointment!"