Mum-of-three Michelle Beaver has undertaken a different charity fitness challenge every month in celebration of her 50th birthday.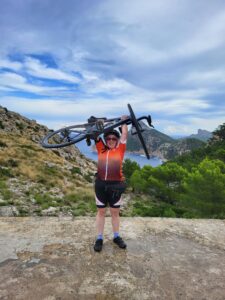 Raising money for the end of life charity Marie Curie, Michelle – a hospital governor who works as a nurse at the Liverpool Heart and Chest Hospital – has taken on a series of impressive challenges.
While others take it easy for their birthday, she decided to complete over 20 challenges to mark her half-century – and is set to end a marathon year with a New Year's Eve 5K power walk in Sefton Park.
Throughout her epic fundraising adventure, Michelle has raised over £2,000. She has cycled her way around Majorca, climbed Mount Snowdon, run around the fells of the Lake District and even conquered her fear of heights by abseiling 150ft down Liverpool Cathedral.
'I decided life is too short and not for winding down'
On abseiling, Michelle said: "I was absolutely terrified. It was my worst fear abseiling the cathedral and something I will never do again.
"I like my feet to be on the ground. But at least I tried it. It was horrible and I am still scared of heights, but glad I did it."
She has also run, rowed and cycled around 1000km, the equivalent of 25 marathons.
She says: "I wanted to do something memorable for my 50th. And I decided life is too short and not for winding down.
"I wanted to get out there and do things and see and enjoy the world while I still can. I decided to make this my 'yes' year when I agreed to do things, rather than say no, so, I decided to accept the challenges."
"People often wait to do bucket lists and leave it too late. But I wanted to get out there while I still can. And I want to raise as much money as I can. So, anyone can join me in the park for my final challenge and donate some money, and walk off the Christmas indulgence."
All the money raised by Michelle's fitness feats are donated to Marie Curie. This is a charity close to her heart, ever since nurses from the charity cared for her aunt and mum whilst they were terminally ill.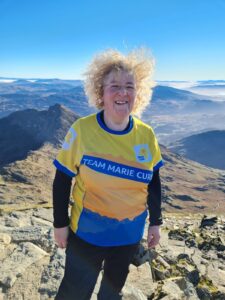 She added: "It's been such a fun year. I have loved fundraising for Marie Curie as they are a great bunch of people, and they support so many families across Liverpool and the North West."
And she has no plans to hang up her trainers just yet.
Michelle wants to raise a further £1,000 by January. She is already planning next year's fundraising challenges and is asking people to make suggestions, alongside donations.
"I can't wait to do my next fundraiser," Michelle said.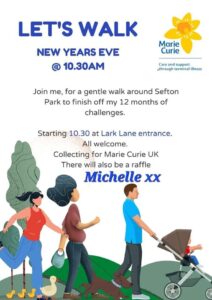 "If anyone would like to suggest something I can look at it for next year. Whatever has the most suggestions I will go ahead with."
She does, however, rule out anymore height challenges: "Whatever I do needs to have my feet on the ground!"
You can donate to Michelle's Marie Curie fundraiser and suggest her next challenge here.
Featured image (c) Marie Curie