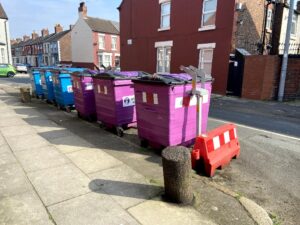 After a long wait and hundreds of people fighting for a pay rise, GMB members have finally been given an offer they feel they can accept.
GMB members have chosen to accept the offer of a 10 percent pay rise due to the financial pressures on Liverpool City Council as well as the struggle of the current cost of living crisis.
Just under 600 GMB members voted to accept the National Joint Council deal.
The GMB is the union for local government workers, including refuse collectors. Their mission is to support and represent the workers fighting for change.
Having been around for over 130 years, the union has dedicated its time to ensuring that workers across the country are receiving the right and fair pay for the work they are putting in.
They make a difference through striking over these disputes and putting forward statements to the companies that they feel are falling behind.
The members, working for Liverpool Street Scene Limited, make up around 95 per cent of the workforce.
Within the agreement, workers will receive a 4.04 per cent rise for the highest paid and up to 10.5 per cent for the lowest paid.
As well as this, they will receive an additional day of annual leave.
Bernie Clearly, GMB organiser, said: "Given the cost of living crisis and understanding the financial pressures being placed upon Liverpool City Council and residents of the city, GMB members have chosen to accept this offer.
"They will continue to uphold and deliver the services currently contracted to LSSL as they did during the pandemic."
Featured image: Georgia Chapman