Liverpool's famous Santa Dash returns this Sunday with people around the city gearing up and getting their Santa suits ready for the UK's biggest 5K run.
Last year, around 5,000 different types of Santas took to the city's streets and flooded them with bright red costumes. Over £15,000 was also raised for Alder Hey Children's charity.
Adam Dixon, Community Fundraiser for Alder Hey Children's Charity, said: "Seeing everyone running through the streets of Liverpool dressed as Santa is absolutely amazing. Every penny we raise through the Santa Dash will make a massive difference towards our £3m Surgical Neonatal Appeal to fund the new unit."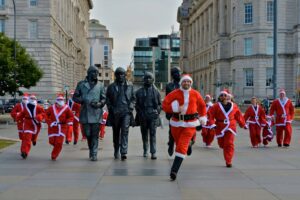 This year will mark the 19th year of the event with the organisers BTR calling for people who have run every previous race to take part. This is the lead-up to next year's 20th anniversary, to make the event even more special.
More than 4,000 people have already signed up for the event this weekend.  St John's Shopping Centre is providing the pop up shop for runners to collect their Santa suits.
It will be open until this Saturday, located near the Matalan bridge on the lower level of the Centre.
Neil Ashcroft, Director of St John's Shopping Centre, commented: "We're delighted to see the BTR Liverpool Santa Dash return to St John's Shopping Centre with its city centre pop-up shop for a sixth year.
"It's always a brilliant sight when you see groups of shoppers carrying their Santa suit goody bags through the centre against the backdrop of our centre looking truly festive – then you know Christmas is definitely on the way.
"Our team will be joining in the fun and dashing round the city with thousands of other Santas – and we cannot wait."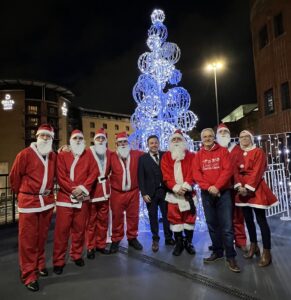 The dash first took place in 2004, with it returning every year including a virtual event that took place in 2020 during the pandemic.
BTR Liverpool Race Director Alan Rothwell said: "We are delighted to announce our ongoing partnerships with Park Christmas Savings, Alder Hey Children's Charity, and In Demand Radio who have all jumped aboard for a second year.
"Together we will give Santas a wonderful festive day to remember."
The event is all about inclusivity as the main aim is to raise money for charity. The race sees people from different communities coming together and all families joining in with Santas choosing to join in with wheelchair participants, baby santas and even festive pets being brought along for the fun.

For the fifth time, Arriva North West have also got involved by offering those travelling by bus a free journey into the city and a free journey home.
Santas must be in full costume with their running number handy in the morning and their medal with them on the way home.
Lisa Pearson, Arriva Head Of Marketing, commented: "The Santa Dash is a great event that really unites the people of Liverpool for a day of festive fun while raising much-needed funds for charity."
The race will be starting at 9:30AM on Sunday with online entry still open. For more information visit  https://www.btrliverpool.com/santa-dash-event and to make a donation see https://www.justgiving.com/campaign/santadashah2022
All photo credits and feature image: BTR