Nick Belderbos has spent the last four weeks converting part of his architecture practice on the Wirral into an art gallery.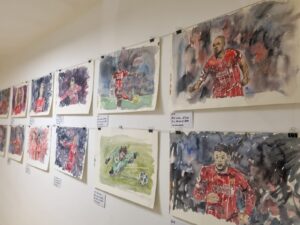 Nick's company, architects-direct.com, was established in 2001, and in 2018 moved to its current location in Heswall.
Nick, 49, said: "I've always thought that art and architecture go hand in hand and the idea of combining an art practice and art gallery in the same building has always been a goal of mine."
The opening night for the Art and Design Hub took place November 24. Some of the artwork on display includes work by Thomas Plunkett, past President of the Royal Water Colour Society in London.
Thomas's work has been exhibited in galleries in London, Manchester, Glasgow, Italy and Australia. His current work on display in the Art and Design Hub includes a series of original paintings of the Premiership-winning Liverpool football players.
Zita Belderbos, a student Architect at Liverpool University, has photography included in the gallery. She said; "I especially like architectural photography, I think its a really good way to analyse buildings and bring features out."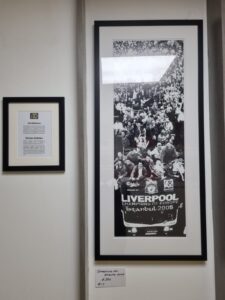 Along with Zita, Nick hopes to show the art of architecture through his photography. His work is also featured in the gallery.
Much of the work in the gallery shows the culture of Liverpool, both Nick and Zita's photography captures some of the amazing architecture in the city.
Visitors who came to the opening night said there are currently no art galleries in Heswall and think it will be a good addition to the village.
Richard McWilliams said: "I think there are a lot of people Heswall interested in art so it will be an opportunity for them to see local artists and support them."
Former Tranmere Rovers player Chris Malkin, who also attended the opening night, added: "The pictures are all originals they are all fantastically done, that is really refreshing."
Having a range of artwork will also help inspire those who are interested in art.
Arthur Goulding said: "It inspires me quite a lot because it shows me what things you can bring to art."
Two other artists at the Art and Design Hub are Poppy Fraser and Andrew Belderbos.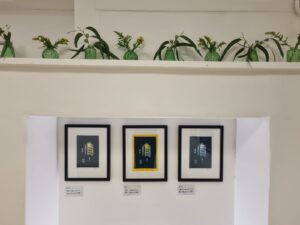 Poppy Fraser, a student at Glasgow School of Art, included some limited addition prints.
Andrew Belderbos has original acrylic paintings of scenes of Wales, the Lake District and Northern Ireland on display.
Watch our video report by Harriet Belderbos:
Featured image (c) Harriet Belderbos