Rita, Sue and Bob Too! is an much-loved piece of work that truly stands the test of time. Originally, I questioned the popularity of a 40-year-old play based on the grooming of two teenage girls … but the packed St Helens theatre told me otherwise!
The play was written by Andrea Dunbar in 1981 and was performed in St Helens in 1984 and 1985. Despite the play being changed through the years and being made into a hit 1987 film, this performance chose to stick to the original script.
Taking my seat, I prepared for what I could only expect to be a dreary setting of a council estate in the height of Thatcherism. Then suddenly, I am struck with the booming of Rod Stewart's Da Ya Think I'm Sexy? and surrounded by waves of a dancing audience. Within the first five minutes the spectators were howling and the lady next to me was wiping tears of joy.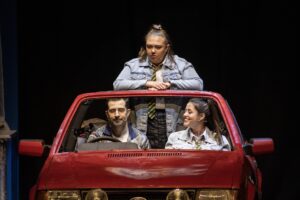 Thrown into the thick of it, the show starts straight away with Bob coercing the girls into sex in his car. A scene that was made hilarious with Bob's intentness being met by the girls' childish slang for everything involved. The scene also brought in the iconic line: "It looks like a frozen sausage!"
The actors did a spectacular job throughout the show. Each actor had a convincing northern accent that held up throughout the night.
Michael Parr did an excellent job as Bob. Despite being a bad guy, he played off Rita and Sue's childishness and almost made you feel sorry him having to put up with it.
There were brilliant parts of improv too. Rather than admitting to watching Coronation Street, like the script says, the actor instead changes it to his home show, Emmerdale.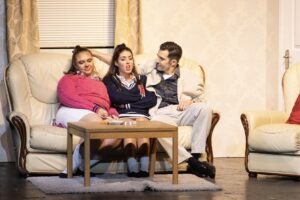 Speaking of improv, Crissy Rock stole the show in the role of mum. In a tense arguing scene, she has a scarf wrap in her hair that fell over her face. The first time this happened, it was fixed with no issues; however, when it happened a further three times, she couldn't help but let out a chuckle.
Despite this, she held the performance well. That was, until it fell a fifth time and she gave up, choosing instead to rob the dad of his hat and wear it instead. This bit of improv had the audience clutching their sides as Rock continued shouting in her dressing gown and flat cap.
Overall I was impressed by the show
Jamie Greer played the role of a drunken father in the '80s perfectly. Despite his character mostly existing to swear and hit people, he played a good part of comedic relief, stumbling constantly and slurring so much that I could really only understand the cursing.
Kay Nicholson as Rita and Olivia Sloyan as Sue were brilliant together. They perfectly captured the friendship of high school girls filled with petty arguing one minute and dancing the next. The pair bounced off each other with their jokes and conveyed the sense of true friendship.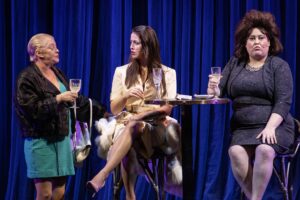 Jessica Ellis stepped in last minute to play the role of Michelle and did an outstanding job. She brought great life to the character. What I'd expected to be a nagging wife was transformed into this boisterous, funny character.
Overall I was impressed by the show. The way the actors reacted to the laughter and times where the audience shouted to the stage, it felt like a pantomime for adults.
I highly recommend watching this if you're in need of a good laugh!
STAR RATING: 5/5
Rita, Sue and Bob Too is at St Helens Theatre Royal until November 13, when an extra day show has been added due to high demand.
Featured image © David Munn