November is men's health awareness month and Pique Niche Theatre Company is shining a spotlight on under-discussed male issues.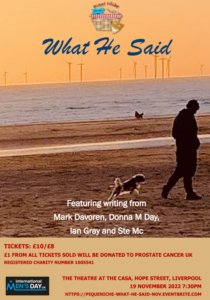 On November 19, which is International Men's Day, they will stage "What He Said" at the Casa Bar Theatre. Four short plays created by local writers will be shown, highlighting men's struggles from PTSD to child custody.
The performance will raise money for Prostate Cancer UK with £1 of every ticket being donated to the cause. Studies by Cancer Research UK show this disease as the most common form of cancer in the UK, with around 50,000 men being diagnosed every year.
Donna M Day, artistic director of Pique Niche, explained her choice of charity: "My partner recently lost a family member who lived with the illness for a long time, so we are performing this in his memory."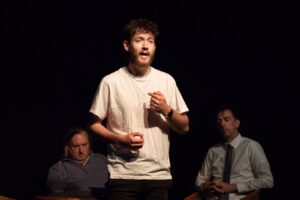 As the only female writer of an all-male cast, Donna explains what she brings to the performances: "A lot of them talk about the women in their lives, I am the sister, I am the mother, I am the daughter of these men.
"I think one of the things with men's mental health is that there is a lot of media around, we need to encourage men to talk, men need to talk to each other, but I think the sisters, wives, daughters, and mothers need to know what to look for as well."
Studies by NHS England in 2018 show suicide to be the biggest killer of men under 50. Donna explained that people often say they had no idea and that they may never have mentioned their problems. Therefore, it is important that everyone knows what to look for which is why women must be a part of the conversation as well.
In addition to the four-part play "What He Said", the audience will also get a sneak peak of what's to come with Pique Niche's new project "What She Said".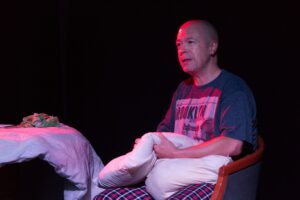 Donna said: "There's a nod to men's issues in the monologue "Younger" being performed for "What She Said".
"Pillow Talk, by Ste Mc, is a monologue about a man who is dealing with the consequences of living with his sister's mental health.
"I didn't write "Younger" based on his monologue, but when you look at the two pieces together, they do reflect on a lot of the same themes so there has obviously been some subconscious connections there."
When asked what the audience can expect going into the show Donna explained that it covers serious themes, so it is inherently quite dark, but it gets lighter as it goes with elements of humour in the second act.
Pique Niche Theatre Company is currently accepting script submissions for their new production "What She Said" which they are hoping to stage next year.
After a successful performance in July, this is the final chance to watch "What He Said". Tickets for Saturday night's performance can be found here with the performance starting at 7:30pm.
Featured Image- July performance of "What He Said" full cast collage. Photography by Anthony McAloon