Millions of people are skipping meals as a way to help stay afloat during the cost of living crisis, 'Which?' research shows.
Alongside the rise in energy prices and bills, food inflation is rising at the fastest rate in 42 years. October saw the rate soar to a record breaking 11.6%. Even bare necessities such as milk, bread and meat saw a significant rise.
As a result of the continual rise in food costs, foodbank usage in Merseyside has almost doubled.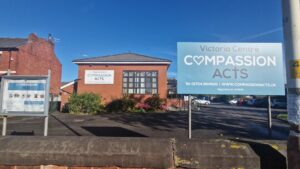 Compassion Acts is a charity in Southport which aims to reduce poverty in Southport and Formby, offering services such as foodbanks. It has seen a significant number of new faces at its foodbanks.
Influencing and Partnerships Manager Arianne Clarke told MerseyNewsLive: "From April to September this year there have been 46% more foodbank parcels issued compared to last year.
"So we're already seeing the impact of increased costs and that's before we really get into the cold period where people are really going to feel the increased energy costs."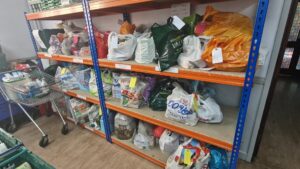 The charity also offers weekly food pantry services for more long-term users. Poverty Reduction Manager Jess McGlynn said: "Our pantry attendances have doubled in the past month and requests for pantry access had gone up three times as much since earlier in the year."
Food pantries allow clients to visit weekly for 12 months and receive food, which means that in the past month the charity has seen double the number of people that cannot support themselves long term.
There is also a struggle for foodbanks to meet the new demand they are facing.
Arianne said: "We have noticed a dip in donations, I think most charities and foodbanks all over the nation are seeing the same thing.
"Understandably our donors are affected by the increasing costs as well. People are cutting back on things and one of those things is quite often charitable giving.
"We're getting less food in and at the same time we are needing more food to give out. We're having to buy more food and the financial donations that we use to buy that food are also down on what they have been in the past."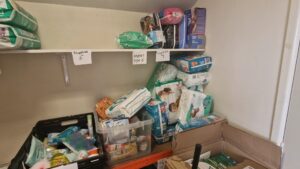 Canning Road Church is one of the charity's quieter foodbanks. However, this week clients were queuing for access.
Volunteer Mike revealed that the number of users that day had more than doubled.
He said: "We've seen people here that you would never expect. They had the nice car, live in the nice house, but now they can't afford their food and they need us.
"I've seen people come in that are working two jobs and still can't make ends meet at the moment."
She simply cannot afford to look after herself and her pets
The foodbank had to start reducing the amount of supplies it gives out due to high demand. An hour into the session, the bank ran out of food and had to have more delivered.
One client revealed that a recent vet bill paired with the rise in basic food has forced her to use the foodbank as she simply cannot afford to look after herself and her pets.
With food inflation continuing to rise into the winter months, it is likely foodbanks will continue to grow in users.
Details of how to donate to Compassion Acts here.
Watch Natalya Luke's report on Compassion Acts here:
Featured image © Natalya Luke