Over 60 police officers and railway staff took part in a major exercise in the wake of increased concern about knife crime.
The operation went into full swing on Friday night, when thousands of people were travelling to and from the city. Over 60 officers from British Transport Police, Merseyside Police and rail revenue staff, including Mersey Rail, Avanti and Northern Rail, worked together at three of the city's main train stations.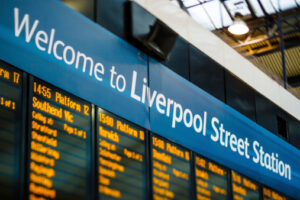 It's no surprise that Liverpool's night life is busier than ever over a weekend, with  district inspector David Rams recently saying the huge multi-agency operation would provide "passenger reassurance" for those anxious at seeing the operation out in such force on a busy Friday night.
The inspector added: "With the recent stabbings, knife crime is there and it's operations like this that do help tackle that. But more importantly it's about making people feel safe who use the rail network."
The operation saw Lime Street station setting up a Knife Arch, where officers were situated in different areas of the station, with certain officers dressed in plain attire and ready to deal with any suspicious behaviour on hand.
Fellow commuters were quick to express their support online, with one user commending Merseyside Police, saying: "Well done to the police it should be like this not just once but all the time."
Another traveller on their way home was keen to show support for the officers and railway staff: "Well done officers and well done rail way staff."
The operation resulted in 43 stop and searches, where 22 people were dealt with possession of controlled drugs, and there were 139 revenue penalty fares issues from rail staff.
This operation is one of several being carried out by Merseyside Police. In recent weeks, a number of warrants were carried out in the city as part of Operation Crossbow, where a cannabis farm in Rice Lane was raided and seized on October 17.
Featured Image © Unsplash.com