By Ollie Nolan-Davies
Walking round Edge Lane, you may notice a new look to the local skatepark.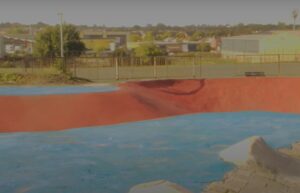 Ben Lewis and a dedicated team of local youngsters, skaters and bikers have been putting in money, time and effort to improve the park for all users.
The striking red and blue colours represent the two sides of the city, as well as indicating safety zones for people using skateboards and BMXs.
The project is seeking support from the police as it aims to turn youngsters away from knife crime.
Local children have been turning away from gangs to help at the site. Giving them lifelong skills such as resilience and determination, as well as vocational skills like mixing cement.
Watch our video report as Mersey News Live speaks to Ben Lewis, the founder and organiser of the project, at the skate bowl
Featured image © Ollie Nolan-Davies