Defibrillators have been installed in recycling facilities across Merseyside and Halton.
The lifesaving defibrillators have been purchased by Veolia and Merseyside Recycling and Waste Authority (MRWA), and will all be fully automatic with visual and voice guides to help the rescuer through the resuscitation process.
They will also have a guide to help with CPR and equipment that analyses heart rhythm and automatically delivers a shock if needed.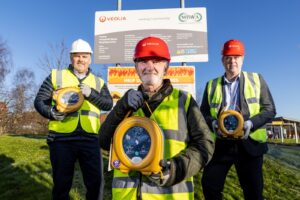 Jeff Sears, Director of Veolia Merseyside and Halton, said: "Veolia are extremely proud to partner with MRWA to install defibrillators at key sites across the region.
"Our sites are visited by over 1.5 million residents every year, so having this vital equipment available to use in an emergency situation could help to save a life."
Councillor Tony Concepcion, Chairperson of MRWA, explained that they have thousands of people visiting the centres every week. While he hopes that the defibrillators never have to be used he said it was reassuring knowing that they are there and can be accessed by the staff if there is an emergency.