A hiker is walking from Brighton in East Sussex to New Brighton in Merseyside to raise awareness of the need for more urban walking routes.
David Sanderson, who is originally from Brighton, wants to map the urban hiking route as a volunteer for the Slow Ways network.
He aims to complete the route in different stages and be finished by June.
Slow Ways is an initiative to create a national network of walking routes connecting all of Britain's towns and cities.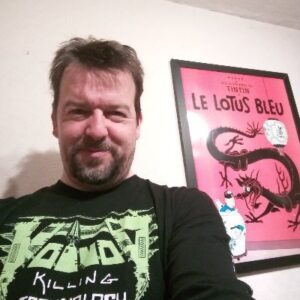 Why Brighton to New Brighton?
Mr Sanderson, who lives in Lichfield, says it was the catchy title of the route which attracted him to the idea.
He said: "I wanted to map a long route. I looked on the map and saw Brighton then Brighton and thought it just sounded cool.
The planned route below:
Inspired by @TormeyMike, I got round to planning my "Brighton to New Brighton" walk, using a #SlowWays waylist this evening. 56 stages over 548km (340 miles). It looks like this. Only 50 stages to go! @SlowWaysUK pic.twitter.com/lg1iXpu9VD

— David Sanderson (@DavSanderson) January 2, 2022
"I've a cousin in Wallasey so I thought it would be a great way to see some of the country then meet him at the end for a pint!
"It's also a great way to catch up with friends dotted around the country."
Mr Sanderson has mainly hiked through the Midlands and London so far.
The route so far:
https://t.co/QGUw5BOYIK An update. #BrightontoNewBrighton @SlowWaysUK

— David Sanderson (@DavSanderson) March 13, 2022
He thought of hiking through Liverpool at the end of his journey, but using a ferry is not part of the Slow Ways ethos.
The end route
"I will be going through Chester then a bit of Wales, through Birkenhead and finally to New Brighton", Mr Sanderson said.
And does he have a pub in mind when he reaches the end?
"No I don't know any round there, but I'm sure my cousin does!"
Mr Sanderson wants to encourage people to get out walking and thinks Slow Ways is a great way to get started.
He said: "Slow Ways are designed to include place to stop and rest if needed.
"Links to public transport is important as well so they really are for all abilities."
Dan Raven-Ellison, the founder of Slow Ways, commends Mr Sanderson's efforts.
He said: "David is simply one of Slow Ways most prolific, creative and committed contributors.
"His latest adventure to walk from Brighton to New Brighton is an inspiring, important and playful adventure.
"It's a journey of purpose, end, seriousness and discovery…but also a touch of randomness too!"
You can keep updated about Mr Sanderson's route here.