Liverpool university lecturers are going on strike again this month.
The University of Liverpool and Liverpool Hope University are just two of 68 UK universities taking part in three weeks of strikes nationwide.
Some universities are striking over academics' pay and working conditions. Others are taking action over what the University and College Union (UCU) say is a 35% 'cut' in lecturers' pensions. The majority of universities will see strikes over both.
The cut comes from changes to pension contribution rates, brought about by the University Superannuation Scheme's deficit valuation in 2020.
Strikes at the University of Liverpool will be over both pay and pensions. Whereas strikes at Liverpool Hope University will only regard pay.
Students in the city can expect disruptions to lectures from Monday March 28 until Friday April 1
The plans for strikes can be found here.
A statement on the UCU's website said "On 22 February, university employers forced through pension cuts which will see 35% slashed from a typical member's guaranteed retirement income. UCU is demanding that employers revoke their cuts and re-enter negotiations"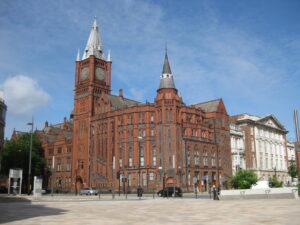 The University of Liverpool said: "Whilst we recognise and respect the right of staff to participate in legitimate, mandated industrial action, we are also of course mindful that such action creates a risk of adverse impact on our students, and our priority is to minimise such disruption."
Liverpool Hope UCU said on twitter "Unless the employer moves, we will be on strike for 5 days between Mon 28th March and Fri 1st April."
🚨 NEW STRIKE DATES 🚨

Unless the employer moves, we will be on strike for 5 days between Mon 28th March and Fri 1st April. https://t.co/JGEvTZu98M

— Liverpool Hope UCU (@BeOurHope) March 4, 2022
University of Liverpool students were quick to voice their frustrations:
Robbie Greenfield, 19, law student, said "It is hard to motivate yourself to work at home when you think that the Uni aren't putting much effort into teaching us."
Stanley Zhao, 22, international law student, said "I'm having to pay even more money than most, so it's just £14k spent on working from home."
David Hall, 24, engineering student, said "Some subjects don't get affected by it, we haven't really missed any lectures this year, so I have been lucky in that regard."
Jozef Pearce, 21, biomedicine student, said " During my three years of university I have had strikes every year. I agree a lot of the time with the people striking, but it can be a bit of a struggle when assessments are coming and I cannot get the support I need."
Featured Image by Lorna Campbell. Accessed on Wikimedia. Creative Commons.