Welcome to the final edition of MerseyNewsLive's magazine produced by the class of 2022, writes lifestyle reporter LOUISE LEMOINE.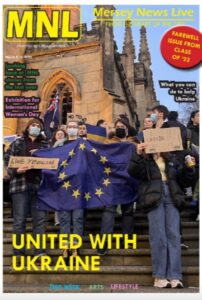 From all of the student reporters, thank you for reading, clicking and watching us grow into the reporters we have become and coming on this journey with us. Beth Lindop reports on the prospects of our student reporters and their highlights from this year.
In this week's edition, we're celebrating International Women's Day, Maia Noden reports on Period Poverty and Saskia Fryer talks to ten female activists looking to bring change to society. We are also looking forward to Mother's Day, so Emma Dukes reports on the best brunch spots to treat your mum.
Radvile Sakenaite reports on the recent vigil held for Ukraine and I report on ways to help Ukraine from Liverpool. Maia Noden reports on Ovarian Cancer awareness and its importance. Zoe Wheeler reports on the crime that still haunts Liverpool: the case of James Bulger. Joe Waddell delves into how Everton FC's new ground will be funded.
In Arts news, Oli Johnson reports on the return of the LJMU MA short film festival and Dannielle Jones previews an art project coming to Liverpool. Finally, Harley Mullen interviews veteran journalist Martin Bright.
Read MNL magazine at: https://issuu.com/ljmujournalism/docs/09032022