Four women from Merseyside have taken the top spots in the regional heat of a major endurance competition.
The Turfgames 'Fittest in the City' endurance competition brought Crossfit athletes from across the North West to its Manchester heat.
Crossfit athletes compete in pairs in endurance competitions which test their strength and fitness levels in a number of gym-based activities within a set time.
Zoe El-Harrati, and Fay Lawrenson, sisters from Maghull, took first place in the Manchester heat of the competition.
Zoe and Fay both joined Crossfit River Mersey in Aintree, three years ago together and said: "We always do partner comps together because we are sisters."
When asked why she loves Crossfit so much, Fay said: "We always want to be better than ourselves so we always want more."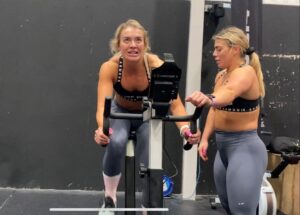 Zoe explained: "The anticipation is horrible before a comp but the endorphins you get off completing a workout are so much better."
Closely following the sisters, Anna Maylor, 17, from Orrell Park and Jess McMahon, 29, from Old Swan, took second place.
Anna first started Crossfit when she was 13 and said: "I just went to the gym with my mum and I loved the environment and the people."
Jess started Crossfit during lockdown in 2020 when the gyms were shut and began training on a field. However, despite being a 'newbie' to the sport, she and Anna managed to beat more experienced individuals at the games.
Jess said: "We always train together, everyday apart from Thursdays and Sundays which are our rest days."
She added: "It's not like your typical hour in the gym, it's like a part time job.
"It's performance based rather than previously when I've been in the gym and people's biggest thing sometimes is about weight loss or looks.
"This isn't about looks, it's about getting better at what you do with a little bit extra weight or getting a little bit faster at something."
When asked about their hopes for the future, Anna said: "I would like to go to the Crossfit games one day."
Jess also shared her aspirations for her future in Crossfit saying: "Maybe I'll look at being a Master's athlete at like 35+, I feel like you've got to have aspirations."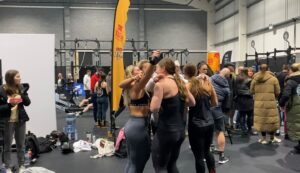 The future
All four girls have a busy line-up for the rest of 2022 with another Turf Games competition in summer and the Crossfit Opens, which are taking place this week.
Anna will also be competing in Amsterdam at the Lowlands Crossfit Championships in May.
Both pairs have qualified for the Turf Games Fittest in the City final where they will be up against the winners of the other qualifying heats.
The final will be held in London in December.
Featured and embedded images supplied by Georgina Fletcher
Exclusive: Natasha Jonas insists vacant World Title is enough for legacy