A campaign has been launched to improve Liverpool's bus network.
Acorn Liverpool have started a petition calling for a franchise model to be implemented rather than having privately-owned companies run the buses.
The action group claims that the privatisation of Liverpool's buses has been disastrous for the city with expensive fares and a complicated network.
Acorn Liverpool's communication officer Martin Mawdsley said: "People are fed up with how buses are run. The bus companies make a lot of money while for the passengers, the services are getting worse.
"So many buses have gone from being every 10 to 15 minutes to every half an hour or one hour. Routes have been shortened meanwhile they are making huge amounts of money even during the pandemic when services were slashed."
He added: "We think the money they are generating would be much better spent to improve services whether that's buses or other local services."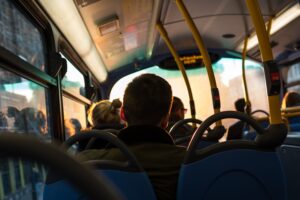 Liverpool's buses are currently run by a partnership between the City Region's Merseytravel, Stagecoach and Arriva.
Liverpool City Region are considering a bus reform and Acorn are campaigning for prices to be regulated and the introduction of an integrated ticket system across all buses.
Their petition, addressed to Metro Mayor Steve Rotheram, currently has 241 signatures.
Acorn are also holding protests across the city to get Liverpool City Council to consider their proposal.
Mr Mawdsley said: "Hopefully there is going to be a decision made next month. The outcome we are looking for is that the City Region supports franchising and moves to the next stage of adopting it."
A spokesperson for the Liverpool City Region Combined Authority said: "Taking greater control of our region's buses and improving services are an integral part of Mayor Rotheram's wider plans to deliver a fully integrated London-style transport system that is faster, cheaper and more affordable for residents.
"Local leaders will soon take a decision about their preference for the future bus service reform. In early 2020 the Combined Authority announced that franchising was the emerging leading option.
"He will continue to campaign for London-style subsidies to improve our region's connectivity and build the transport network we deserve."
Take a listen to Martin Mawdley explaining what Acorn want to do to improve Liverpool's bus network.