What is your ideal Valentine's Day? Is it a stroll along the docks, an evening in with a takeout, a cocktail bar or a fine dining experience?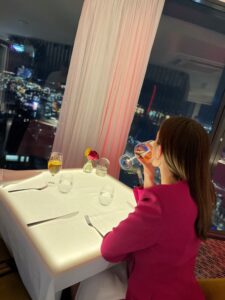 Well, if it is the latter, we might have the perfect place for you right here in the heart of Liverpool.
Panoramic 34, located near Liverpool's famous docks, has just been named one of the country's 'sexiest' restaurants  by national newspaper The Times, which noted the glamorous bar and elegant dining area.
I went along to the award-winning restaurant to see whether this could be the ideal place for you and your loved one.
With spectacular 360-degree views from the West Tower's 34th floor, London is not the only city in the UK that offer a skyscraper experience; at Panoramic 34 there is no better view in all of Liverpool.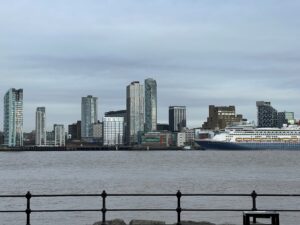 Just seconds in the lift and you are welcomed with a vista above the clouds. Located 300 feet above sea level, Panoramic 34 will cater to your every need, whether it's afternoon tea or an evening of the finest wines and high-end Champagne.
Although the interior is somewhat formal with long white drapes, tablecloths and grey carpets, it is secondary to the view outside. Whether that be during the day as you watch the sunset or overlooking the city come alive at night.
The kitchen caters to high rollers with an array of extravagant dishes such as monkfish with cauliflower, dulse, mussel, cider and seaweed relish and OX cheek with oyster emulsion, pickled shallots, sea pulsane and samphire.
Vegetarians and vegans can also anticipate a culinary feast, including salt baked kohlrabi with date, tamarind and dukka, as well as hen of the woods hazelnut gnocchi with artichoke and charred leek.
All of which can be followed by upside down apple cake, a chocolate brownie, poached rhubarb or a selection of cheeses.
There is a choice of four set menus:  A two- or three-course lunch and prix fixe menu, afternoon tea, and an eight-course tasting menu, with a choice of pairing with a selection of wines.
Additionally, there is an a la carte menu and a Sunday menu are available. None of which are inexpensive, but given the setting and attention to detail, they are also not outrageously priced.
I had intended to have the three-course prix fixe menu, but by the time I finished my main dish, I was too full, as it wasn't simply three courses. There was an additional amuse-bouche in between courses as well as bread and butter to begin.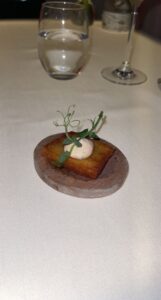 The portions are all quite small, but the attention to detail and artistry are outstanding, even without mentioning the taste, which was even better.
I left a two-hour meal of five courses and a bottle of sauvignon blanc feeling pleasantly full and in awe.
At a first glance, the menu appears far too expensive, and this coming from someone who is notoriously tight. However, it was the most worthwhile meal I have ever paid for.
You're not just paying for the food; you're paying for the view, the service and the ambience.
There is nothing like it in Liverpool, which is why it is a must visit.
Visit Panoramic 34 for more information on their menus and booking availability: https://www.panoramic34.com/ 
What do you think? Is Pananoramic 34 the city's sexiest restaurant?
Let us know. Email [email protected] or tweet us @merseynewslive
Struggling for love this Valentines? Why not try speed dating?