Christmas is here at last! We're finally heading into the holiday season, and joy is everywhere to be found, writes lifestyle reporter RHIANNON HOGARTH.
Lights have been turned on across the country, Secret Santas are starting and everyone is rushing to get their Christmas shopping done in time for the school holidays.
In this edition, a group of reporters attended the famous Santa Dash 2021 whilst reporter Saskia Fryer offers readers her review of the panto 'Destiny'.
This edition will briefly touch on whether or not we will be going back into lockdown as well give readers insight into the small businesses that'll be working hard over Christmas to provide everyone with fantastic services.
For those who are excited to cook we have some mouth-watering Christmas recipes and for those who are dreading the fateful turkey, Emma Dukes talks about meat-free eating out over the festive period.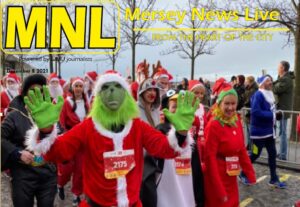 Struggling with gifts? We offer ten new gift ideas from high-street stores for all ages and personality types. Or, if you're just looking for a good read, we have a feature on Liverpool Hospitals' charity 'Elf Hunt'.
This edition, we wanted to have a little bit of everything for everyone, and we wanted the magazine to be bursting with cheer. Consider this our gift to you.
Happy Holidays!