Liverpool's new comedians now have a new platform with the launch of comedy open mic night Dopamine Fiends.
Liverpool is a special place for comedy, and supports new acts, especially if you're one of their own, but if you are bad, you will know.
Local comedian Dean Coughlin has been doing stand-up for around four years. He has been making a name for himself recently, becoming a well known face on the comedy circuit.
He is the host of The Jacaranda's latest comedy night, an open mic event where if you sign up, you go up and do five minutes.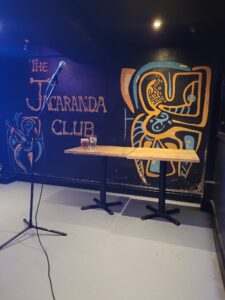 It is an opportunity for people who have never done stand-up before to get their first taste of it.
When asked about why he wanted to start the event, Dean said: "There's a lot of comedians in Liverpool, and not enough stage time.
"Hot Water Comedy Club (Hardman Street) is massive, they have a good new act night. But it's hard to get on because everyone wants to get on, they only have a certain amount of spots every Sunday."
At the first Dopamine Fiends show 26 acts signed up to perform and the show ran from 8pm to just after midnight. The idea is that the show goes until there are no acts left, but Dean has now had to cap the amount of acts at 20.
Each week, a professional comic will come and open the show with 20 minutes of new material. The first week Liverpool stand-up Adam Rowe did a set. He is a popular comedian who has performed on Live at the Apollo and hosts a successful podcast called Have a Word.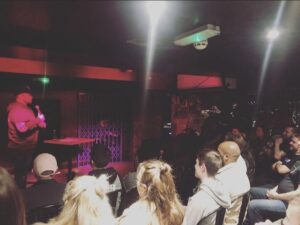 At the second show, experienced comedian Freddy Quinne performed some of his newest stuff. He dealt with a heckler early on in the show, which was a great lesson for the first time comics on how to deal with difficult crowd members.
Even the best comics bomb at open mic nights when starting out, and sometimes spend years being awful before they get into a rhythm and get paid gigs.
Dean said: "Especially with new comedians, getting up regularly is what gets you better, it's like going the gym, you need to be doing it otherwise you don't get any better at it."
The Jacaranda in Liverpool has been a hub for musical acts in Liverpool for over 60 years, it is the club where the Silver Beetles became The Beatles and was also frequented by Gerry and the Pacemakers.
Talking about why he chose this venue, Dean said: "One of the Beatles first gigs was here, its got a lot of history. Especially when it comes to the arts, and expression of people, new people becoming up and stuff like that.
"I'd been down here before for a gig and it was one of the first places I tried. I thought I'd ask the Jac because they've not got one on and its a nice venue, people know the venue, and I asked and they said yeah straight away."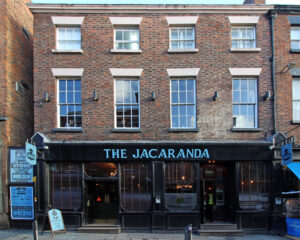 The club also has an already established relationship with the Liverpool comedy scene, with many open mic nights and gigs their over the years. Hot Water Comedy Club started there in the early 2010s.
Hot Water is Liverpool's main comedy attraction. The club now has its own building and is referred to by many comedians as the best comedy club in the world.
Dean said that Liverpool crowds are generally welcoming, but if you're not from Liverpool, you need to win them over.
"If you're not from Liverpool its quite hard. You get about one minute, and if they don't like it then you're done."
Persevering through gigs where nobody laughs and the crowd isn't won over is part of the journey in comedy.
Dean added: "It's a good gauge on whether your stuff is genuinely good. If they don't like you they will let you know here."
Here are some up and coming acts to keep an eye on, recommended by Dean:
Tom Keegan
Dan Tiernan
Sam Serrano
Gary Hyland
Liam Bolton
You can listen to the full interview with Dean here, or on SoundCloud.
Dean also hosts a podcast called The Mild High Club with his fiancé Amy.
I'm starting an open mic in the Jacaranda. It's a sign up so if you show up, you go up.

First one is the 25th of October then every Monday after that. Sign up will be from 7pm and show starts at 8pm.

Tickets available here: https://t.co/ntVzxOmxYI

Hope to see people there! pic.twitter.com/pmA3mJ2d1W

— Dean Coughlin (@deancoughlin_) October 17, 2021