The halting of the redevelopment of Liverpool Lime Street has forced the relocation of two of the city's biggest events.
The city's busiest street for welcoming visitors has been in the process of a revamp for a period of time but the renovations were delayed after the contractor on the scheme went into administration.
Liverpool City Council is now under pressure to resume redevelopment and is looking for a new main constructor to restart the project, which is likely to run into Spring 2022.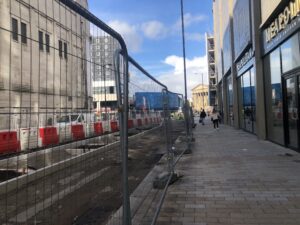 This disruption has resulted in two of Liverpool's biggest annual events having to relocate.
St George's Hall, the Neoclassical building opposite Liverpool Lime Street Station, typically holds the city's Christmas markets. However, the festivities will instead be held at St John's Gardens and William Brown Street this year.
Remembrance Day, another key event of the city, is also being relocated. It will now be held on Sunday November 14 at Liverpool's Anglican Cathedral.
The annual event will see around 2,000 military personnel, veterans, and families of the fallen heroes attend the service at the cathedral, also accompanied by civic dignitaries from across the city region.
Big screens will be set up in the grounds of the cathedral to allow members of the public to pay their tributes.
The service will start at 10.40am, shortly before the two-minute silence at 11am, with a touching poppy drop around the cathedral afterwards.
The event will finish with a military parade along Hope Street.
The council has announced that despite the service being unable to take place at its usual spot at The Cenotaph, members of the public will still be able to lay wreaths there.