The latest issue of our sister magazine MerseyNewsLive is now out, writes reporter SOPHIA SMITH.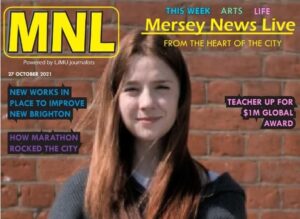 We're kicking off this spooky week with the annual Rock 'n' Roll Marathon in the streets of Liverpool over the weekend.
Next, reporter Sophie Moore found out about a Liverpool teacher who works with visually impaired children who is in with the chance of winning a $1m dollar prize at the Global Teaching awards.
Find out about Liverpool's Kat Hughes entering the Sky Arts Portrait Artist of the Year, and check out a review by Harry Hughes of a Wirral DJ.
Ella Williams reports on a former LJMU student who has set up her own fashion business from her bedroom, while Amna Akram visits Unity Theatre to see a play which draws attention on domestic abuse within transgender communities.
Ellie Rochell discovers classical music at her visit to the Philharmonic Hall, which was not her typical venue for an evening! We end this week's issue with an article from Jack McGahan about the 1981 Toxteth uprising – an exhibition at the Museum of Liverpool welcomed activists, writers, artists, politician leaders of the Black Power Movement to discuss the origins, key events and the aftermath of the uprising in the early '80s.
Have a fang-tastic Halloween!