An exciting hi-tech exhibition is opening in Liverpool on Thursday. 
As we reported last week, plans are progressing for the exhibition and the doors are almost ready to open.
Showcasing the works of nine UK and international artists, FACT presents Future Ages Will Wonder, an 'alternative museum' of artworks that offers new ways of understanding who we are and where we belong.
The opening of this exhibition marks the beginning of FACT's year-long exploration programme, Radical Ancestry, which will look at how history, biology and culture shape our ancestral history, and how technology can help us to explore who we are. 
Future Ages Will Wonder will display different textiles, sculptures, photography and virtual reality to explore stories of the past, present and future and promises to dive into history, politics and ethical issues.  
The exhibition is curated by independent curator, Annie Jael Kwan, who has spent a year working with FACT to create the show.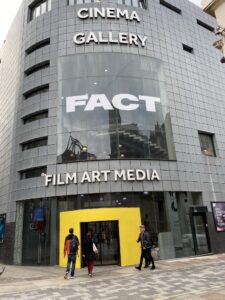 Nicola Triscott, Chief Executive Offer/Director at Fact, said: "We are delighted to announce Annie Jael Kwan's exhibition, Future Ages Will Wonder, which launches our thematic year of Radical Ancestry. 
"Annie has worked intensively with the FACT team and the artists to curate this beautiful and intriguing exhibition, which interweaves personal histories and discoveries from contemporary science to create new narratives through which we can rethink belonging." 
Annie Jael Kwan has previously worked with Manchester Art Gallery and South London Gallery and spoke to MerseyNewsLive. 
"I was born in Singapore, but I have lived in England for a couple of decades now," she said. 
"I feel like I'm navigating between the two places so some of the concerns about topics such as migration emerge in the exhibition." 
Annie is the CEO of Something Human, an organisation that looks at migration, belonging and borders – similar themes to Radical Ancestry and Future Ages Will Wonder. She told MNL: 
"Since 2012, Something Human has curated different projects including exhibitions, art activities seminars and screenings. 
"Nicola Triscott asked me to join a working group focusing on Radical Ancestry and it gave me the opportunity to research how science and artistic practices have affected our ancestry. 
"She took a position at FACT and asked me to be the first curator in residence to create a show in relation to all of the research we had been doing." 
Artists, Larry Achiampong, David Blandy, Yarli Allison and Breakwater will have their artwork premiered and works by Boedi Widjaja, Ai Hasegawa, Miku Aoki and Trisha Baga will also be featured. 
Annie told MerseyNewsLive why she chose these artists: 
Annie is currently in Singapore visiting family. However, she has visited Liverpool several times and told us why it's the perfect place for her exhibition: 
The exhibition opens on October 28 and further information can be found at https://www.fact.co.uk/event/future-ages-will-wonder.