Hundreds of protesters took to the streets outside Liverpool Town Hall on Saturday to protest against an arms fair taking place in the city this week.
The Association of Old Crows (AOC) electronic warfare group organised the event at the Arena Convention Centre in Liverpool. The fair commences today, October 12.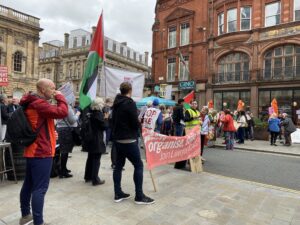 The weekend protest was organised by Merseyside Pensioners Association (MPA) as a final plea to get the City Council to cancel the event.
The secretary of the MPA, Audrey White, told Mersey News Live: "The failure of Liverpool City Council to cancel the Arms Fair at a venue owned by the citizens of Liverpool is a crime for which they will never be forgiven."
Furthermore, the crowd heard from speakers representing various organisations in an attempt to get the council's attention.
The protest on Saturday was one of many that have taken place over the last few months all over the city.
Audrey White said: "We still hope that the Council decides to stand by the citizens of Liverpool instead of international arms dealers – why wouldn't we as the people who voted in these representatives hope that they will do the right thing even at the last moment?"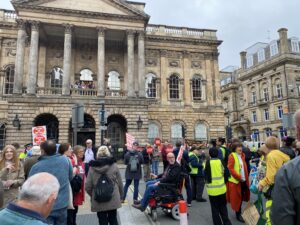 Earlier this year, Liverpool City Council Mayor, Joanne Anderson, put a motion to the council opposing the event.
However, the motion declared that the Council has no power to interfere with any bookings at the ACC exhibition centre.
Mayor Anderson also put out a further statement last month before thousands, led by Jeremy Corbyn, marched through the city.
She said: "I'm totally opposed to this event and I've asked the Arena Convention Centre to adopt an ethical charter."
View Mayor Andersons full statement here: https://twitter.com/lpoolcouncil/status/1436638254049136640?s=20
The AOC is an organisation made up of 14,000 members with an interest in Electronic Warfare.
They run annual events showcasing this technology and to share their mission of advancing electromagnetic warfare.
An AOC spokesperson told the BBC that the fair "serves only the legitimate defence and security industry, which is the most highly and tightly regulated in the world.
"All visitors to our events are vetted and undergo the strictest scrutiny before being allowed access."
Mersey News Live has approached AOC for comment.
Take a look at our footage from Saturday's protest.