Women have reacted with anger and disbelief to plans to place plainclothes police officers in nightclubs to tackle sexual harassment.
The controversial tactic was announced by the government in response to the murder of Sarah Everard and the criticism of police handling of the vigil held in her memory on March 13.
What was intended to be an organised protest against the sexual harassment that women experience every day descended into chaotic scenes of clashing between the crowd and the Metropolitan Police.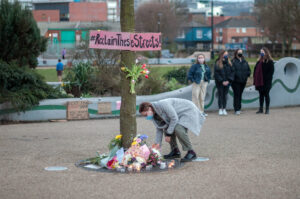 Photo: Tim Dennell
Intentions to place plainclothes police officers in nightclubs were declared a few days later.
Women have been very vocal in response to these measures on social media – asking how women could feel comforted by increased police powers when distrust in police is rife among women.
Many have even said the police presence would make them feel more uneasy and reluctant to go out.
Georgia*, a 22-year-old student in Liverpool, would be put off by plainclothes police being present on her night out.
"Male officers are still men"
Georgia said: "It shows how out of touch the government are with the way women are feeling. I think it will actually heighten that feeling – I would constantly worry about which men I can't trust in that environment.
"I think some men could even use it to their advantage by posing as plainclothes officers. Also I don't think women will trust all male officers automatically just because they're police. They are still men."
There have been around 200 officers convicted of crimes since 2013 and 594 claims of sexual misconduct were made about the police between 2012 and 2018.
"I'm not sure how safe I would feel in these spaces not knowing who is or isn't working for the police"
Max*, a 22-year-old trans person, felt that the topic of police officers in clubs goes beyond just sexual assault.
Max said: "As a trans person I am very uncomfortable with the idea of officers in LGBT+ spaces. I fear this would be used to police trans people's rights in those spaces, particularly in regards to toilets.
"I'm not sure how safe I would feel in these places not knowing who is or isn't working for the police. Which is a shame because I have been really missing going out and before this was desperate to get back in a club."
Some women feel like the proposal of plainclothes officers is a misuse of over-stretched resources.
Clare, 30 said: "It wouldn't affect me enjoying a night out but it in no way makes me feel any safer or helps the issues women are facing in the slightest. It also takes more eyes off the streets where a lot of assault takes place."
Whilst sexual harassment undoubtedly takes place in nightclubs, serious assaults happen more frequently on the street and even more so in the home between people who are known to each other.
There is a general feeling that the government have and continue to misunderstand how to tackle misogyny, violence and femicide.
Although some women have called for a stronger police presence, swifter justice and longer sentences for offenders, others say: too little too late.
Many young women believe the entire system needs to be reformed as it is too broken and institutionally misogynistic to make real change.
Cat, 21, is part of the feminist society at her university. She believes that criminalisation has proven a failure and a different approach is needed.
Cat said: "I don't see a safe and free future under the police. If I believed in the current system maybe I'd think it was the way forward out of this. But I don't."
It is difficult to trust that the justice system will do the work whilst rape convictions are at a low and reoffending rates are around 24.8%.
On Twitter, a bartender expressed concern that police presence in clubs could lead to violence, unnecessary stop-and-search powers, and police focusing more on catching out those talking openly about drug use.
The Good Night Out Campaign said: "We are deeply concerned about this unworkable scattergun approach.
Real cultural change comes through workplace training, policies, publicity, customer education and community building."
There is some doubt that this latest policing plan will ever be implicated. With cuts of 21,732 officers between 2010 and 2018, it is questionable whether stretched police resources could accommodate these measures.
For many of Liverpool's clubbers, there is hope that the plans won't go ahead.