Students in Liverpool are fearing for their health living in horrific accommodation.
Many students told MerseyNewsLive how they are living in unfinished, damp, dirty, mouse-infested houses.
These claims come after SaveTheStudent revealed its survey findings that just 50% of students view their accommodation as 'good value for money', which is a drop of 10% from the previous year's survey.
SaveTheStudent is the UK's leading student money website which aims to educate and support undergraduate students in making their money go further whilst studying.
The survey, which consisted of 1,300 students, also found that the worst student accommodation issues consisted of:
Lack of water or heating (32%)
Damp (29%)
Disruptive building work (21%)
Inappropriate/unannounced landlord visits (16%)
Rodents and pests 16%)
Jack's experience
For some students, unfinished housing was a problem for them that occurred at the start of the semester.
Jack's house was incomplete when he was ready to move in; himself and his housemates experienced a two-month delay from their original move in date.
Once they finally moved in, they were faced with:
No back gate for the first few weeks
A gas leak for the first few days
A large hole in one

One of the tenants had a hole in their bedroom wall

bedroom for the first month

A radiator leak in the kitchen three weeks in
Lights and heating didn't work on moving in
Dust everywhere on move in
At the start of the tenancy, the letting agents made promises to fix the noted problems however didn't follow through with this and had to be chased up multiple times.
As well as the initial problems, Jack and the other tenants had to deal with many more, such as their front door being propped up by a plank of wood, several breaches of the Tenancy Act and contract, and loose brickwork with debris coming off the wall.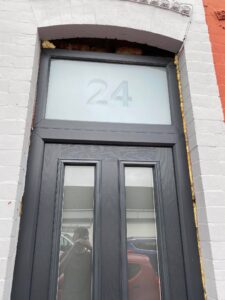 The tenant's landlord also accidentally sent a video to them boasting about ''renting the f*ck out of these streets,'' which was meant to be sent to his staff group chat.
Jack, 20, said: ''Living in the house has felt very unstable, like another problem was always around the corner.
''Coupled with the poor communication, it has left us feeling less than secure in a place we pay a premium price for.''
Jennifer's experience
Students have had other issues in their houses, such as their bedroom floor being rebuilt whilst living there.
Jennifer's house had a large basement which was directly under one of the tenant's bedrooms.
When moving in, Jennifer noticed that the ceiling of the basement was covered in mould, so reported it to their letting agents.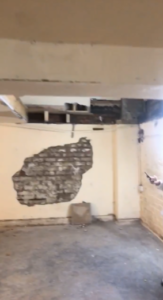 They were ignored for months until the Easter break when workers were sent into the house without warning the tenants.
Jennifer and her housemate overheard the workers claiming, 'it was a miracle the floor hasn't fallen through yet.'
The bedroom floor had to be rebuilt which took ten days, whilst the tenant had nowhere to sleep or store her belongings.
There were also incidents involving water pouring through the light fittings of the house which Jennifer had to fix herself whilst being directed by her dad on FaceTime due to the maintenance man dismissing her.
Jennifer and her housemates received no compensation or apologies.
Jennifer said: ''It was all very weird, overall horrible experience with the company.''
Anna's experience
Mould is also a common problem in student houses, especially in the case of Anna's house.
Anna's house was covered in mould which would get continually painted over.
The mould problem was so bad that it would develop over the walls and furniture, and even on the tenant's clothes.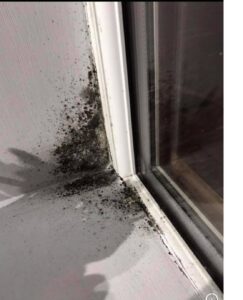 Despite the Anna and her housemates' complaints, the landlord refused to fix the problem, even ignoring the letting agents' requests.
On top of the mould, the tenants had to deal with a leaking toilet which made the flooring rot, and water coming through a light fitting in the front room.
The tenant's front door also broke one night and wouldn't shut or lock.
After not being able to get hold of anyone they had to barricade themselves in the house using their sofa.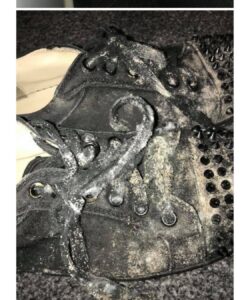 At the end of the year, Anna wrote a complaint to the landlord who argued that the despite these problems, the students still lived there so it 'didn't really affect them.'
The tenants were offered £75 compensation each but then had their deposit taken away as the landlord claimed their freezer was 'not defrosted.'
Anna said: ''It was awful, the constant worry of what was going to go wrong next and the never-ending stress of living in a hell hole.
''We were so disappointed as the first time we saw it; it was so beautiful.
''We just couldn't believe that the landlord was perfectly okay with people living in such a mould infested health hazard.''
Bethany's experience
For some students, they have to deal with rodent infestations in their houses.
This was the case for Bethany and her housemates.
After two weeks from moving in, the tenants realised they were living with mice.
The mice were running around the kitchen and were often caught various times running across the surfaces.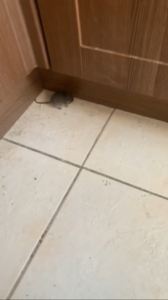 The tenants could also hear them in the walls at night.
After making a complaint, it took two weeks for the landlord to send out exterminators.
However due to the multiple holes over the house, this didn't stop the mice as they came back on four separate occasions after this.
The tenants also had a huge leak from the bathroom which resulted in water pouring through the light switches and the fire alarm which flooded the kitchen.
The property also lacks a working fire alarm or a carbon monoxide alarm.
Bethany, 24, said: ''We've complained multiple times about a few things that haven't been fixed.
''We move out in August and I cannot wait.''
Molly's experience
Some student houses are not cleaned properly before the new set of tenants move in.
Molly and her housemates were greeted with dirty underwear and mould when they moved it in.
The main issue for these tenants was the hygiene of the house, especially as they were told it would be cleaned before their arrival.
Instead, Molly's housemates and their parents had to clean the house themselves.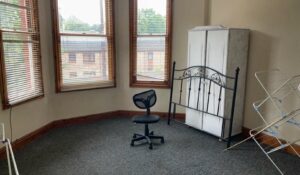 Also when Molly moved in, there was no bed in her bedroom.
Molly said: "It looked like it had been nicked, but still somehow it passed inspection?
"How do you not see there isn't the very thing that makes a bedroom a bedroom there!"
Molly had to sleep at her girlfriend's house for a week whilst she waited on the delivery of her new bed.
Advice
Liverpool Student Homes (LSH) is the only official University service which helps students to find good quality private accommodation in Liverpool.
The service is owned and managed by many of the Universities in Liverpool and is endorsed by their Student Union's.
Ian Humphreys, Deputy Manager at LSH said: "Without a doubt there are poor housing conditions within the student market.
"Students can find themselves living with disrepair, and that certainly can have an impact on not only the physical comfort of living in a property, but also on a person's mental health and well being."
LSH offers support for students whilst looking for accommodation and also whilst they are in it.
They also give advice to students that are experiencing problems in non-registered properties.
Ian added: "Firstly, I will say it's important to put in groundwork before you make your choice of accommodation, because I think really that is the key thing that you can do to minimise risk.
"There are a number of guides that we produce on our website that gives students tips and guides on how to look for somewhere and how to make sure the properties that you're considering are not potentially suffering for disrepair and poor conditions.
"It's important to go round and have a look at the property first and foremost and to really properly look at the house or the rooms, and not just look as to how big a bedroom is perhaps, but what's hiding behind the wardrobe or something that may cause concern.
"I think as well, perhaps one thing if you are able to, is ask the current occupants of the house whether or not they are experiencing any problems."
LSH allows private landlords and letting agents to register their property through their service.
Landlords also sign up to an accreditation scheme through LSH which consists of them making a series of promises to the students that the properties they own or manage are good quality, safe and secure homes, and that they will be professional and courteous.
LSH also means students have a redress – they can approach LSH and tell them that there are issues in their property or that they are not being fixed.
Ian said: "You do not have to put up with disrepair and poor living conditions.
"You are paying rent to a landlord and you are therefore entitled through that rent to have a decent home or house to live in.
"So, anything that happens, always report it as quickly as possible, the landlord will have a reporting procedure, so whatever it is; use that.
"If you are not happy with the response that you get, or you don't get a response, then immediately seek guidance and support through a housing adviser, such as ourselves, and we will give the students a picture of to what their expectations should be."
To find out more about LSH you can visit their website here.