A Liverpool charity has been providing lockdown packages to Merseyside's struggling children and families.
KIND has been offering 'national lockdown crisis food and education' packs to over 150 families a week throughout Merseyside.
The package consists of fruit and veg, a meat pack, eggs, cheese and over 50 other items.
It is designed to be a full week's shop with each box being in the region of £50's worth.
The packages are distributed to a variety of referrers who consist of schools, churches, community groups, and women's aid.
In the first lockdown, KIND was able to support over 10,000 adults and children with their lockdown packages.
Stephen Yip, founder of KIND, said: ''In the first lockdown we did 12 weeks and it's all about funding.
''We raised over £80,000 in the first lockdown just for food and education packs, and we spent all of that.
''It's very difficult for smaller charities you know, definitely in lockdown.''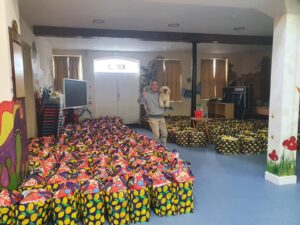 The idea of the lockdown packages came after the charity had to alter the normal services they provide which involve bringing children into the centre, such as summer programmes and after school clubs.
KIND are currently working with around 20 organisations, who like them are trying to reach out to those most in need in Liverpool.
The charity also provides extra support for struggling families when needed.
Stephen added: ''I believe in doing things like pyjamas as well, and some parents have asked us if we have any clothing.
''So, you know, we're doing what we can to meet their needs.''
KIND was founded in 1975 and was a result of Stephen's experiences as a young volunteer with the NSPCC.
The charity has been working now for 46 years, working with struggling children and families every year, with Stephen running it from day one.
Stephen said: ''Our philosophy has remained fairly constant; it's about giving opportunities and chances to see that they [the children] in life can be different, that they in life can be better in many ways, and to say look, you know things aren't going to change overnight, but you've got to know that eventually you will be able to make your own choices, and to make them choices you need to have a good foundation, a good grounding.
''That's what we've always tried to do.
''We've worked constantly not only on academic education, but also social education so our kids learn about social values, responsibility, co-operation, and respect for themselves as well as other people.''
KIND doesn't employ fundraisers or market teams.
The charity employs eight staff, two trainees, and some volunteers, and tries to work on a 1:4:/1:5 ratio with the children.
Like all charities, KIND is always looking for donations in order to expand the support they offer.
Stephen said: ''We're a small charity, we guarantee that any support we get, the majority of the money, 92p of every pound will go on the services.
''If you want your pound to go a lot further, then try and use a small local charity, because it will.''
To find out more about KIND or to donate to the charity, click here.
Image credit: KIND