Merseyside has recorded the highest rate of patient admission to hospitals for dog attacks in the UK, a study has shown.
Local authorities across Merseyside have seen 32.2 admissions per 100,000 people on average per year.
The average across the UK is 14.4 admissions per 100,000 people.
Areas of Merseyside including Knowsley and St Helens have the worst rates of dog bites in the UK.
The graph below shows the worst affected regions in the UK for dog bite admissions into hospital.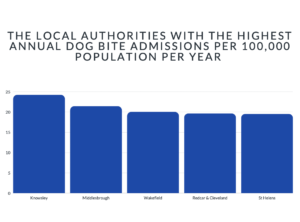 Areas of the South of England, including London and Harrow, recorded the lowest incidence of dog bite admissions.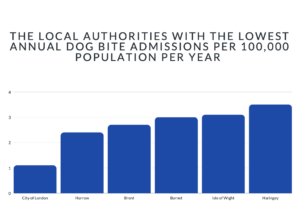 It has also been reported that during a recent UK survey, 25% of people have been bitten by a dog in their lifetime.
The newly published report, from professors at the University of Liverpool, found that the number of hospital patients with dog bites across the UK has been escalating since 1998.
There was also a large increase in adult cases.
Alder Hey Children's Hospital, saw a surprising surge in children with dog bites during lockdowns.
Research has found that the majority of dog bites occur within the home.
James Oxley, a member of the Merseyside Dog Safety Partnership, said: "As a result of lockdown, we are spending much more time with our dogs.
"It is likely to cause disruption to their routine and with the extra attention, dogs may be more stressed and behave out of character."
After the Dangerous Dogs Act 1991 placed restrictions on certain breeds, Mr Oxley highlighted that any dog can bite regardless of breed.
Mr Oxley said: "We often see that certain breeds are stigmatized based on their physical appearance which is often influenced by the media despite there being little evidence to support this.
"A variety of factors can contribute to aggression in dogs such as, but not limited to, a lack of socialisation, training, a health condition (e.g., pain due to arthritis) and individual factors such as temperament."
The Merseyside Dog Safety Partnership is a multi-disciplinary partnership of vets, doctors, researchers, council and postal workers.
It was set up to address the issue of dog bites in Merseyside by encouraging the correct behaviour around dogs.
"There are a range of prevention avenues such as close parental supervision of children when interacting with dogs.
"This also is dependent upon the context for example, postal workers are frequently bitten and therefore dogs should be put in a separate room when answering the door and children should not answer the door whilst a dog is present," Mr Oxley said.
The Merseyside Dog Safety Partnership distributed a poster to inform dog-owners about further prevention methods to reduce the risk of dog bites whilst remaining in lockdown.
We have seen a surprising increase in dog bites 🐕 at @alderheyED during lockdowns that we haven't seen in other kinds of illness or injury. There are lots of things you can do to keep your family safe and help #preventdogbites…see below ⬇️ pic.twitter.com/GnbuuOzenW

— 🏥 Alder Hey 💙 (@AlderHey) February 12, 2021
Earlier this month, a 17 month old boy was mauled by a dog in Marian Gardens, Netherton.
He suffered injuries to his leg and needed assistance from an air ambulance.
Witnesses say he had been playing on the swing when the dog attacked.
If you have been bitten by a dog or in imminent danger of an attack, call 999.
If you wish to report the incident, call your local authority dog warden service:
Sefton: 0151 934 4035
St Helens: 01744 676299
Wirral: 0151 606 2430