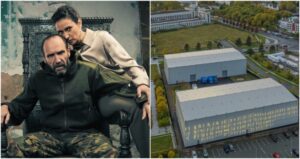 An immersive, interactive adaption of William Shakespeare's Macbeth is bringing a touch of Hollywood to  Liverpool.
The star-studded bill includes Ralph Fiennes (Harry Potter, In Bruges) as the titular character and Indira Varma (Game of Thrones, Obi Wan Kenobi) as his scheming wife. T 
The play is directed by Simon Godwin, artistic director of the Royal Shakespeare Company, and will have costumes designed by Frankie Bradshaw.  
The play aims to be a modern 21st century retelling of the iconic story of a hero's downfall and a couple corrupted by their lust for power, while still retaining the story's elements of greed, murder and superstition. 
This version is different to most other adaptations as it will not be performed in a theatre but in The Depot – a purpose-built facility for shooting movies on Liverpool's Edge Lane. Here audiences can be fully immersed in the play, interacting with the set and the characters. 
The Depot is a newly-built custom building, featuring two units of 200,000 square feet, purpose-built shoot space for film makers to tell their stories. 
It aims to establish the city as a place for high end film making both in the UK and Europe. 
This brand new never-seen retelling of the play will take place in custom-built theatre spaces all over the world including London, Edinburgh, Washington D.C and here in Liverpool.  
The production will be running from November 18 to December 20 and tickets can be purchased from The Depot's website here. 
Featured image (c) Visit Liverpool