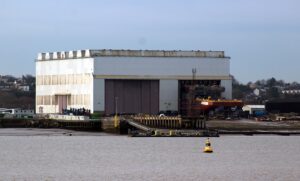 Ship builders at Birkenhead's Cammell Laird are ready to walk out after overwhelmingly voting to strike following a dispute with bosses over pay and conditions.
More than 400 workers belonging to the GMB and Unite unions voted to strike, with a majority of 94% of GMB workers and 96% of Unite Workers in favour of industrial action.
This comes after bosses offered a 6% pay rise which unions claim does not match  inflation.
Workers who will strike include welders, pipe fitters, electricians, fitters, labourers, cleaners and office workers.
Any strike or industrial action will cause significant delays to the Royal Navy Dreadnought Submarines and Type 26 Frigates.
The ship yard also manufactures Seatruck, Stenna and Calmac Ferries and a variety of support vessels for the oil and gas industry.
they're frustrated, angry and have voted to strike
Albie McGuigan, GMB Organiser, said: "These are skilled workers doing vital work for the Royal Navy and the commercial sector.
"Yet because of Cammell Laird's poor response to their pay claim and unnecessary delays they're struggling to keep up with the cost of living.
"It's no wonder they're frustrated, angry and have voted to strike with a huge majority."
Sharon Graham, Unite General Secretary, added: "Cammell Laird has signed contracts worth hundreds of millions with the UK Government to build and maintain their ships, yet thinks it can get away with cutting our members' pay in real terms.
"Unite won't stand for such behaviour or any attempts by management to bully, harass or discriminate against our members."
MerseyNewsLive has approached Cammell Laird for comment but had not received a response at the time of publication.
Featured image (c) Wikimedia Commons