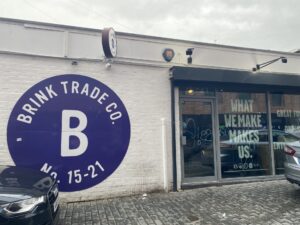 Brink is not your traditional bar – it doesn't serve alcohol.
Opened in 2011, it was one of Liverpool's first 'dry bars' since the heyday of the Victorian temperance bars.
Not only is Brink a dry bar, it is also a safe space for recovering alcoholics and addicts to meet or attend a therapy session.
Whether you simply want a coffee or someone to talk to, Brink can help in more ways than one. Most of Brink's employees are in recovery themselves.
Liverpool city centre has a buzz about it every weekend as it is filled with many bars, clubs, and hosts hen and stage do's every week. There is a large population of alcohol consumers. It's a stark fact that on average, 242 people die each year in Liverpool due to alcohol-related illnesses.
Brink has reopened after having to close in 2020 due to Covid. They hold daily meetings such as a goal-setting session, relapse prevention, a steppingstone workshop, a weekly guest speaker and finally on Friday there is a learning impact session.
Brink's quirky, industrial interior is contemporary and enticing, covered in greenery with an outdoor seating area for the days the sun comes out. The café is complete with a stage for the nights when they have live music.
BRInk's motto is 'What we make makes us'
Brink is also home to MPACT (Moving Parents And Children Together), a support programme to aid children and families affected by substance misuse.
This programme allows children to talk and open up about their family members who suffer with addiction, and receive advice on how to cope with their feelings, combat the issue and offer help.
Brink's motto is 'What we make makes us' – being not for profit, all of their proceeds go back into bettering the business.
Featured image (c) James Hirst