An explosion and large fire on Arundel Avenue in Liverpool has left two homes uninhabitable for the foreseeable future. 
The source of the explosion itself is still unconfirmed, but the police on the scene assured the residents of the ruined homes that it was most likely a gas explosion, which led to a large-scale fire.  
The explosion occurred after 1pm on Saturday, April 15, in a family home on Arundel Avenue in the Sefton Park area and residents described the sound as a "whoosh, like a huge gust of wind". 
Although the explosion occurred on the first floor of a family home, the fire spread to the attic and neighbouring student accommodation.
 The home was occupied at the time by Gabriel Pradal, 21, who had initially dismissed the sound of the explosion as "some bass over the speaker". 
All roads leading to Arundel Avenue were blocked off and residents of the two homes on fire, and all homes attached to them were evacuated.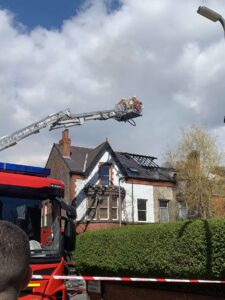 Neighbours rallied round to help those who had been evacuated.
Student Sara Tabaku, 22, said: "So many members of the community offered somewhere to stay and brought us water and snacks – it just made an awful day a lot easier," said   
 A week after the fire, the homes affected remained unoccupied, with the student residents being told they will likely never re-enter their home and will have to relocate.