March 23 2020, a day that will live long in the memory, was the day Boris Johnson first announced a 'national lockdown' to slow the spread of a virus unheard of just a few weeks before.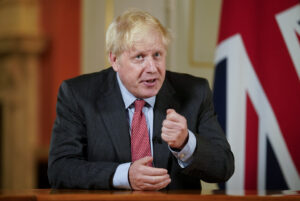 Looking back at it now seems strange.
We knew it then, but it still did not seem real – we were living through history and a global pandemic.
At the time we were promised 12 weeks: 12 weeks to slow the spread of COVID-19 and life would be back to normal.
Those 12 weeks turned into 12 months until finally, on June 19 2021, we had 'Freedom Day'.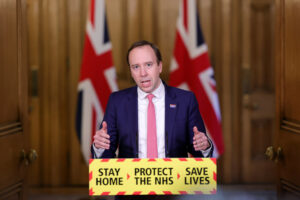 What was only supposed to be a 12-week inconvenience had turned into a full-scale calamity.
Today marks the three-year anniversary since the first COVID-19 lockdown and many are still feeling its effects today.
Richie Johnson and Janet Johnson, Warrington, had their lives turned upside down due to COVID.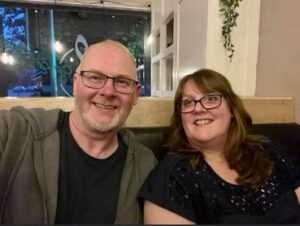 Richie is a sufferer of what is known as 'Long-COVID'.
Most people who have COVID-19 feel better within a few days or weeks. People then tend to make a full recovery within 12 weeks.
For some, however, symptoms can last longer. This is called long COVID or post-COVID-19 syndrome.
Long COVID is a new condition and is still being studied.
The Office of National Statistics' latest figures shows that 2 million people were experiencing self-reported long COVID as of 2 January 2023.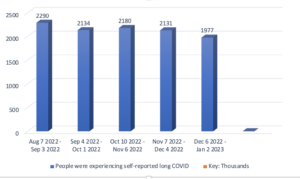 Long COVID is a scientific phenomenon, and it is not fully understood.
However, it seems Richie's experience is one of the more severe cases.
He now uses an electric wheelchair, struggling to walk anything other than a short distance.
He experiences what is called 'Brain Fog', which causes confusion and forgetfulness. Furthermore, he now has to take medication for his heart.
"I felt like I had woken up in someone else's body," Richie said after COVID meant he was hospitalised for more than 37 days.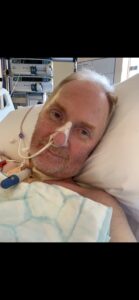 Richie contracted COVID in April 2020, after his wife Janet contracted the virus.
Because Janet is an Occupational Therapist at Warrington General Hospital she followed all the guidance at the time.
Janet said: "Because of my work, I was following all of the precautions. But I was the first to get sick.
"It started with a mild cough – I thought I actually had hay fever because the weather was so nice.
"However, I then lost my sense of taste, and began to feel breathless – like I had forgotten how to breathe."
Soon, Richie contracted COVID himself and started to deteriorate.
It started with breathlessness, which then progressed to him not eating or drinking, then he could not leave his bed.
Previously Richie was a healthy man.
He ran his own airport transfer business, which would require him to lift heavy suitcases in and out of his van.
He worked full-time, was a singer in his spare time, and had no underlying health conditions prior to contracting COVID.
Janet said: "He was probably suffering from Sepsis at the time.
"But with all the doubt and not knowing much about COVID, we did not put two and two together."
Richie soon had to go into the hospital, where his oxygen saturations were low and he had a very high temperature.
When in the hospital Richie's condition declined dramatically.
His lung had collapsed, and the hospital inserted a chest drain to help improve his breathing.
He was then placed in a medically-induced coma for 37 days.
Richie said: "I went into the hospital on April 25 and I woke up on June 1.
"I remember my dreams while in the coma so vividly, which is strange, as I never remembered any dreams before."
While in the coma, Richie's brain was active, though he was not conscious of what was going on.
He explained how he could in a way hear what was going on around him and that his brain filled in the gaps.
Richie thought all of the dreams he was experiencing during his coma were real, as his entire sense of reality was distorted.
Richie said: "The dreams were strange.
"I dreamed I was kidnapped and put in a box and sent to China.
"I was sent to participate in a game, which I wanted no part of and there were Samurai soldiers all around me.
"Then I died in my dream, it just all felt so real"
Janet then added how the doctors all around Richie would have been wearing full PPE, and even though he was comatose, at times his eyes were open.
Janet said: "It would probably explain why you dreamt of Samurai soldiers."
But because the dreams felt so real to Richie, when he woke, it was difficult to know what was real and what was not.
Now Richie is out of the hospital the effects of the long COVID are still strong.
He gets sharp pains down his leg and still suffers from Brain Fog, breathlessness, and irritated skin.
Even though he had no issues before COVID, he now has issues with his heart. He needs medication to keep his heart rate under control but still gets flare-ups.
It has meant that Richie has had to stop working because he physically can't do it anymore.
Richie said: "I was angry at first.
"I could not do things I could always do before.
"But slowly I am socialising again, and learning to accept it."
Years on from the lockdowns, there are still conspiracy theorists who believe COVID was a hoax, or that the vaccines were used to control people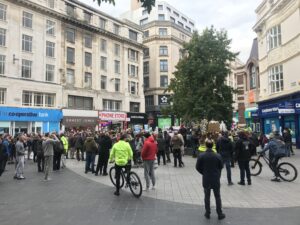 Claims like these really bother Richie and Janet.
Richie said: "It was people who you know.
"I knew people who did not believe it until they saw me."
Janet said: "It made me think not nice things about people, which really is not in my nature.
"Sometimes people, after seeing Richie, still don't fully believe that COVID could have done that to him.
"They think that he must have had an underlying health problem, which was not the case."
Janet and Richie are both trying to move forward from this traumatic experience.
Both of them struggled to get back to normal life, Janet especially found it hard to go back to work in hospital after what had happened.
She would experience moments of anxiety, and at times could not do her job, because of her experience with Richie.
However, both say that they are building up confidence, and life is beginning to become more normal.
Richie said: "I am picking up hobbies to keep busy.
"I'm more accepting of my situation but not giving up."
Starting a new type of physiotherapy soon, Richie is not giving up. Though the progress he is making is slow, it is still progress.
A spokesperson for the charity, Long COVID support stressed how people need to still remain vigilant.
Christina said: "Unfortunately, anyone at any age can develop Long COVID, even if it seems you had recovered from previous infections.
"Currently there is no cure for Long COVID, but there are treatments to help relieve the symptoms."
Long COVID is still being studied and understood. Hopefully, more understanding will mean an improvement in the lives of those who suffer.
Follow the link if you would like to donate or learn more about Long COVID Support.
New neighbours for The Pilgrim pub as developers buy plot next door
Break-in blow for city cafe that supports homeless community