Knowsley Council is fighting an application to build a medical waste disposal facility in Simonswood.
The facility proposal was given an intend-to-approve status in December by Lancashire County Council, amid fierce resistance from local residents and surrounding councils.
🚨 📣 GET READY TO MARCH📣🚨

Our leaflets for our march and rally are being printed this week ✅#NOTINOURTOWN, #NOTINANYTOWN pic.twitter.com/bf1FQbEVdc

— Stop The Simonswood Medical Waste Incinerator (@TheSimonswood) April 11, 2022
Knowsley MP Sir George Howarth has stalled the County's plans with a request to parliament that they "call it in".
This means that until the Secretary of State for Levelling Up, Housing and Communities, Michael Gove, approves or dismisses Sir George's request, the construction of the facility cannot begin.
Local residents from both Merseyside and Lancashire have rebelled against this facility, with many joining the Facebook group "Stop the Simonswood Incinerator".
Members of the group, as well as Kirkby residents, have previously felt the blow of waste facilities being built in their communities.
There was concern about a former woodchip facility operated by Sonae, who were fined £600,000 in 2015 over conveyor belt deaths.
Paula Carlyle, organiser of the group, told Merseynewslive: "That had a chimney stack, and that released fumes.
"People were extremely unhappy with the facility. Lots of the community believe that there were numerous adverse health affects due to that facility.
"And they, therefore, strongly oppose any such other facilities."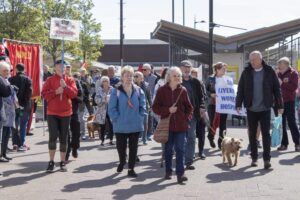 Plan faces pushback from other councillors.
In February 2022, Sir George and five others submitted an Early Day Motion to the House of Commons.
The motion claimed that the facility would have a negative impact on the health and wellbeing of locals.
Former West Lancashire Borough Councillor, Ian Moran, spoke against the facility in April 2022.
He said: "West Lancs has had too many waste sites 'dumped' onto its residents with White
Moss and Parbold hill to name a two."
He added that if the development was allowed to go ahead it would have a significant detrimental impact on the health and general amenity of residents in West Lancashire and in Knowsley.
"Enough is enough, stop dumping on the residents of West Lancashire."
Plans outlined by the Warrington-based electricity company, Culzean W2E Ltd, show the facility expects to burn up to 3,650 tonnes of hazardous waste each year.
StSI's research, backed up by the WHO, say that any type of incinerator should be built far away from where people live and work to protect people's health.
The group has more than 3000 members on Facebook alone, all against this facility being built in Simonswood.
Here come the girls…🎶🎵🎶
Our fabulous team who has made all of this possible… working with and encouraging our strong, beautiful communities!!! We will not give up. We will keep on fighting and educating. Inclusive, not exclusive. #notinourtown #notinanytown @TheSimonswood pic.twitter.com/HEj5G6cwoo

— Stop The Simonswood Medical Waste Incinerator (@TheSimonswood) March 6, 2022
Paula Carlyle said: "Both councils have now confirmed they are awaiting the Secretary of State's decision.
"However, if the Secretary of State is minded to allow permission be granted, then Knowsley Council and KMBC have instructed barristers to look the possibility of judicial review.
"They don't do that lightly do they?
"But that gives you an idea of how strongly the people of the area are opposed to this; in the fact that they have been able to persuade the politicians that this is the course of action they need to take."
The Secretary of State has not yet made his decision.