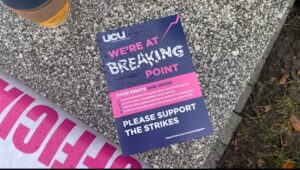 Industrial strike action has been paused by lecturers at Liverpool John Moores University.
Academic staff members at LJMU have refused to work on a number of days during the past three weeks.
The members of the University and Union (UCU) have been on strike in a dispute over pay, conditions and pensions.
Yesterday LJMU announced that UCU planned to pause strike action for this and next week.
A spokesperson said: "Whilst the dispute has not been settled, this pause is in the context of on-going positive negotiations at national level."
There is no plan for strike action to take place the week commencing 6th.
Jo Grady, UCU general sectary, said: "We want to make it absolutely clear that this is simply a pause. And alongside this, we will be continuing with the campaign to deliver another massive yes vote in the re-ballot."
Featured image (c) MNL