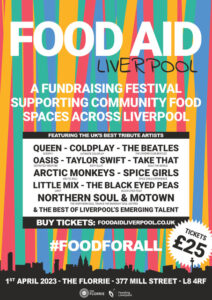 Food Aid Liverpool music festival aims to end food poverty in the city.
The event is a fundraising music festival that aims to raise awareness and funding for the community across Liverpool as its food spaces begin to struggle.
Families across the UK are experiencing food insecurity but data from Trussell Trust shows that Merseyside is particularly hard hit with 252,048 emergency food parcels handed out by food banks in 2021-2022.
This is some of the highest demand for emergency food parcels across the UK.
Dr Naomi Maynard, Good Food Programme Director at Feeding Liverpool, said: "The fundraising concert will not only raise funds, but will raise awareness about food insecurity, and the importance of giving people healthy and affordable options on how to eat well.
"At the Food Aid Festival there will be several food stalls throughout the festival selling good food and offering tips and advice on how we can eat healthily."
Feeding Liverpool is the city's food alliance, who are leading Liverpool Good Food Plan. The alliance works with 300 organisations in Liverpool to support them in providing food across the city.
They became involved with Food Aid in summer after becoming concerned about the sustainability of Liverpool's emergency and community food sector due to the decrease in food donations.
'It's important to bring some fun and joy to people's lives'
Set up by The Florence Institute (The Florrie), the event came in response to the soaring number of groups requesting food support.
The Florrie regularly supplies food support for the public but with the cost of living crisis, those who normally donate to food spaces were unable to continue helping and the shelves became empty.
Dr Maynard said: "Although we want to raise lots of money for community food spaces and raise awareness around the issues of food insecurity, we also felt it's important to bring some fun and joy to people's lives at a difficult time for everyone."
The festival will involve tribute acts of popular artists and some of Liverpool's own talent as well as several food stalls.
Some of the tribute acts involved are Arctic Roll, The Cavern Club Beatles, Definitely Mightbe and the Taylor Swift Tribute.
There will be four stages throughout the site, with TV and film legend Ricky Tomlinson hosting one and the main stage being dedicated to DJ and TV host Janice Long, who regularly donated to The Florrie before her death last year.
Dr Maynard said: "Food Aid Liverpool wants to celebrate and acknowledge the importance of those who volunteer their time at food spaces across the city and donate to community charities.
"Food Aid is the festival that wants to end – what other festival can say that?"
The festival will take place on April 1 at The Florrie. Due to popular demand, £5 child tickets have also been released for the event. These tickets along with other, and more information on the event can be found at http://foodaidliverpool.co.uk/
Feature image: Feeding Liverpool