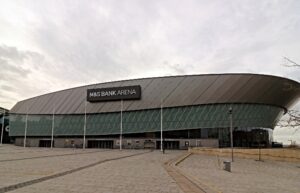 Culture Liverpool is calling for artists and other creatives to take part in a cultural festival during the build-up to Eurovision.
The UK will be hosting the competition next year due to the invasion of this year's winners Ukraine, making them unable to host it themselves.
Liverpool was chosen to hold the festival on their behalf, with the contest being staged in the M&S Bank Arena.
In the run-up to the competition, the city will prepare a cultural festival to tell the story of different cultures and especially that of Ukraine. It will include commissions, events and installations. The purpose of the event is to showcase the diversity that Eurovision provides and the different communities that can come together.
Culture Liverpool has called out for creatives to take part in their choice of three opportunities.
UK X Ukraine commissions: They are looking for artists from both the Ukraine and the UK to create outdoor installations to create storytelling works of Ukraine's modern culture. The aim is to create partnerships by paring up UK artists with those from Ukraine to collaborate on projects.
Culture Liverpool said: "Individually these works will be ambitious, accessible and inspiring, yet collectively will tell a compelling story about modern Ukraine."
Music United: Taking a more musical approach, this opportunity calls out for people from all different backgrounds to get involved in way more than just performing. They are asking for people of all different ages and ethnicities to come together to understand how music can strengthen a community.
Eurovision in Liverpool: This will focus more on Liverpool and draw more on the city's own diversity, going hand in hand with the spirit of Eurovision.
Overall, they are looking for artists with experience of high-scale pieces and are used to creating excellent quality works within a tight timeframe.
Although the festival intends to highlight the culture of Ukraine, these opportunities are welcome to creatives from all countries running in the Eurovision song contest.
Artists are asked to submit their expression of interest by December 12, with selected artists then being shortlisted and informed by December 16.
The final of Eurovision 2023 will be broadcast live by the BBC on May 13 to around 160m  people across the globe.
More information and the application form for artists can be found on the Culture Liverpool website.
Feature image (c) Eurovision Song Contest