The owners of Liverpool's M&S Bank Arena have apologised to concert-goers following a show at the weekend.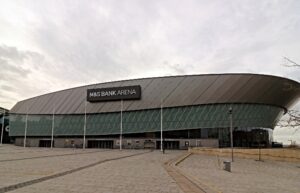 Jamie Webster fans were left feeling vulnerable after his Saturday night show at Liverpool's M&S Bank Arena was branded "overcrowded" and that "tickets were not checked".
Video footage appears to show people entering the concert through an unguarded backdoor.
Faye Dyer, MD of The ACC Liverpool Group, told MerseyNewsLive: "On Saturday night we hosted a sold-out Jamie Webster concert at the arena.
"There were reports of overcrowding at one of the floor bars. However the crowd congestion was resolved and people were dispersed.
"The safety of our customers is of the utmost importance; we take any incident seriously and a detailed investigation has already begun.
"We sincerely apologise to both the artist Jamie, who was playing the biggest show of his life, and to his fans for any aspects of their experience which fell short of their expectations."
The statement added that they wished to thank Jamie and his promoter for their support in removing the encore to ensure the remainder of the show continued to operate safely.
"Merseyside Police received a report of concern for safety at the venue just before 9.30pm and attended the venue for a short period whilst our events security dealt with the incident. The event was deemed safe to continue," said Ms Dyer.
She added that the process for checking tickets was a rigorous one and understood that all appropriate checks were made on the night.
Fans took to social media to express their frustration about what they saw as a lack of security at the show.
"It is 100% true people have said that's their ticket didn't scan, still let in and people were going in through a unmanned door," said @Rachburchx on Twitter.
Fans also reported that the men's toilets were flooded, and one audience member said they had to wait 45 minutes to purchase a drink.
People going in through this unmanned door absolute madness no one checking tickets at all no security @MandSBankArena @JamieWebster94 #jamiewebster pic.twitter.com/P2JvUxPhZ2

— r a c h e l ☂ (@Rachburchx) November 21, 2022
Featured image: Phil Nash from Wikimedia Commons