Birkenhead artist Ron Gittins spent years of his life turning his home into a quirky gallery, entirely in secret.
His work was discovered upon his death in 2019 to the amazement of his family. The property features themed rooms such as an Egyptian hallway with a life-size model of Cleopatra, an aquatic bathroom and a living room dedicated to Georgian England.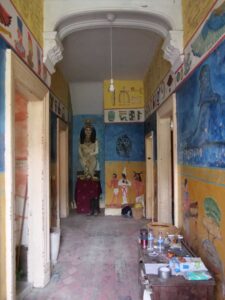 His niece, Jan Williams, recognised the artistic value of the property and decided it needed saving. She said: "Ron's place is totally unique.
"It is the product of one man's imagination and resourcefulness.
"Everyone who's crossed the threshold into Ron's fantasy world has been gobsmacked by the sheer scale and ambition of his creativity."
Wirral residents remember seeing Ron out carrying bags of cement which he later used to produce a magnificent lion fireplace, minotaur fireplace and a Roman altar in his kitchen.
Ron struggled greatly with his mental health throughout his life. Creativity and the project of transforming his home into an art piece had a huge positive impact on his wellbeing.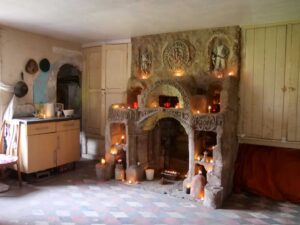 Ron's landlord immediately began removing external sculptures after Ron's death.
Jan took quick action and started a fundraising effort with the recent help of musician and artist Jarvis Cocker, which has managed to pay for 18 months rent for the property.
However, the landlord has announced that they are selling the three-story semi-detached property. Fans were disheartened at the news that Ron's artwork could be destroyed.
Local actor Christopher Lee-Power said: "I met Ron in 1987. As a child I was diagnosed with hyperactivity, speech problems and poor education.
"Ron mentored me, helping me with me voice, drama skills and art. Ron's place is a brilliant building that needs to be saved, people all over the world need to see this."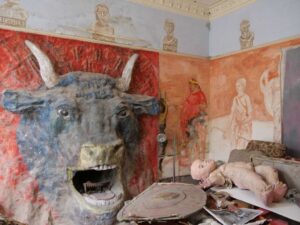 Facebook group 'Saving Ron's Place' are now calling for a sympathetic buyer to work with WACCLT (Wirral Arts and Culture Community Land Trust) to manage Ron's ground flat as a community asset.
On behalf of 'Saving Ron's Place', Jan said: "Ron's Place could be a fantastic cultural asset within the local community, inspiring other people to be creative.
"It would be criminal to lose such a special and internationally recognised art environment."
A public meeting is being held on November 22 at Williamson Art Gallery at 6:30pm and on November 24 at 2pm to discuss saving Ron's Place.
Featured image © Ron's Place