Amidst unprecedented fuel bills ahead of the cold winter months, the Archdiocese of Liverpool are reaching out to those in need and opening their social clubs up amid the cost of living crisis.
Between the River Mersey and the River Ribble, around 40 parish centres will open their doors with the initiative of providing "warm and cosy" places for for people with high fuel bills.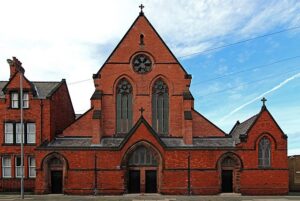 Opening on different days of the week, the parish centres will offer free tea, coffee, and Wi-Fi  between the hours of 1pm and 3.30pm through the week. The archdiocese have also revealed that as of the 28th of this month the parish hall is open every Friday from 12pm-2pm with a warm lunch served at about 12.30pm. There is no charge for the lunch, but donations are welcome.
Director of finance Jill Boggan who was instrumental in setting up the scheme, told MNL why the Archdiocese are helping those in need.
"'Warm and cosy' truly reflects what our parish centres are about and it is about giving people a warm welcome to help them through these difficult times. Many of our centres host activities during the day and during these times we have set aside an extra room to welcome people.
"In many areas we have liaised with other community groups to try and ensure that people have somewhere to go everyday during the winter months."
This is not the first for centres to lend a helping hand, with more pop up centres becoming available not just in the city, but across the country, as energy bills continue to rise. The "cost of living crisis" is a phrase we are starting to hear more as the months go on, with the real struggle lies deep within the struggling Liverpool community.
Peter Hennegan, the press officer for the Archdiocese, also spoke to MLN, on just how far the parish is working to better the city. 
"We recognised that the winter months will be a difficult time for many people and we wanted to be able to help provide somewhere comfortable and friendly for them to be warm and cosy as the weather gets colder and the cost of living crisis begins to bite.
"Our parish centres gave us a wonderful opportunity to do this as they are at the centre of their local communities and are often open during the day. They are open on different weekdays to fit in with what would normally be happening there so that they can offer a friendly welcome."
We want everybody to be warm and cosy this winter
For those who wish to join with young children and families, look no further as the centres are offering free activities to entertain.
Mr Hennegan added: "Its early days for our warm and cosy centres as we are only at the start of November, but the signs are encouraging with them being well received across the archdiocese.
"Many of our centres host activities during the day so we have been able to make a room, available to welcome people. We want everybody to be warm and cosy this winter so yes, everyone is welcome, young or old; those who are alone and those with families."
These hardships are affecting the already disadvantaged and taking a huge toll on ordinary working class citizens, mounted by staggering bills and never ending price increases.
According to recently revealed statistics which uncovered the growing concern for bills ahead of Christmas, nearly nine in 10 of those asked were turning lights off to save money in the last week, as well as turning electrical goods off standby.
"We want to achieve for people, to give them security in difficult times, to keep them safe and make life easier for them and to offer them the chance to create new friendships in a safe and secure environment.
"We are also working with other community groups to make sure that our opening times don't clash and that people have somewhere to visit in their local area every day of the week."
The scheme has been set up to continue well into 2023, so people will be able to keep
warm and cosy in the centres after Christmas. With the parish hoping to extend the scheme in time, by further working with other organisations to offer advice and support with plans for Merseyside Fire and Rescue Service to come in to give
safety advice.
Opening times for the different centres stretched across the city can be found here.
Featured Image © Unsplash.com