A senior lecturer at Liverpool John Moores University is aiming to row a marathon today in order to raise money for The True Athlete Project Charity.
Danny Cullinane, a trustee of the project, will be attempting to row twice as far in one sitting as he ever has before.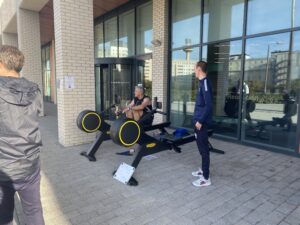 It is part of the charity's Whakapapa campaign, where they are seeking to make a more compassionate world through sport.
The True Athletic Project say on their website: "We believe in the power of sport to make a positive difference. However, we are acutely aware that sport often fails to live up to its full potential, leading to high rates of dropout, burnout, bullying, anxiety, depression, and suffering.
​
​"We work across disciplines to design mindful training techniques that engage sport as a powerful tool for self-mastery and increased overall awareness. Our practical approach to changing the culture of sport demonstrates that nurturing mental wellbeing and improving performance are not mutually exclusive."
As of midday Tuesday, 25 October, over £300 has been raised towards the £1000 target.
Click here if you would like to donate to Danny's cause.
Featured image © Shay McGurrin