A moving performance based on the impact the Hillsborough disaster had on survivors is returning to Edge Hill University on October 11.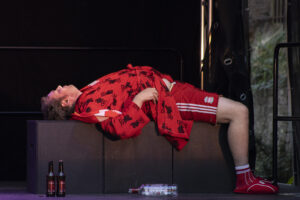 Set in 2012, the play focuses on two survivors John and Steve and how they cope with the trauma suffered at the disaster when they were younger.
Tom Cain, a graduate of Edge Hill University, wrote the play as his dissertation for his degree in drama. The piece helped Tom graduate with a first-class degree.
He said: "I thought 2012 was a good place for it to be set as this was when Operation Resolve uncovered that many survivors' statements had been altered by the police."
In order to make the play as accurate as possible, Tom interviewed several survivors of the disaster. With the help of the Hillsborough Survivors Support Alliance charity, he sought interviews with 10 people.
Tom explained: "I was desperate to make sure that every fact was correct. Obviously there was such bias in the media surrounding Hillsborough, I was very conscious that I had to make this accurate."
The inspiration to create a play centred around Hillsborough stemmed from his grandfather Andrew Cain, who was a survivor of the tragedy. Tom said his grandfather could not face attending another football game for 20 years.
In 2021 the performance was shortlisted from over 30 entries to feature at Little Liverpool Theatre Festival at St Luke's Bombed Out Church.
After the festival, Tom was invited by the main Liverpool Theatre Festival to perform a further two shows at the Bombed Out Church and it also sold the most number of tickets at the entire festival.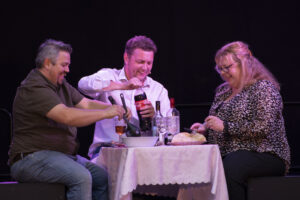 This performance will be a shortened festival version, featuring four actors rather than seven and having an hour less run time. In addition to featuring the festival version, the following day there will be a school edition where high schools can attend for free.
Tom explained: "I decided to create this as Hillsborough has now been added on to the high school curriculum across Liverpool as part of the Real Truth Legacy Project.
"This will be aimed at years 10 and 11 to educate them on the TRUTH of Hillsborough and raise awareness that there are still those that suffer from their trauma today."
In preparation for the play, funds have been raised on a GoFundMe page set up by Tom and have currently received £240.
The money is planned to be split in half: some going towards the set, costume and props, and the other half going towards the Hillsborough Survivors Association (HSA).
HSA have developed a new therapy called Hillsborough Transformational Recovery Model. Figures last year showed HSA helped 98 people with this therapy and it had a 95% success rate. However, this therapy is not funded by the NHS and instead relies on donations such as these. You can contribute to the GoFundMe page here.
The play will feature at Edge Hill's Rose Theatre on October 11, starting at 7:30pm. Tickets are free for Edge Hill students or start at £8 for the public and can be purchased at the Edge Hill University website.
Featured image © David Munn