For over more than 40 years, Hollywood blockbusters have used the city of Liverpool as a location to shoot their films.
Liverpool's gothic, historic architecture is the reason it can be used as a double for period pieces and major studio blockbusters.
With the recent success of The Batman (2022), a film that transformed Liverpool into Gotham City, Merseynewslive looks at other films that have been shot in our city
The Batman (2022)
The Batman was mainly shot during the pandemic, however that did not stop them shooting on location.
Most notably, St Georges Hall was used as an exterior for Gotham Cathedral. Batman could also be spotted on top of the Royal Liver Building, where he looked like he was preparing to jump off.
A chase sequence on motorbikes was also filmed in Anfield Cemetery.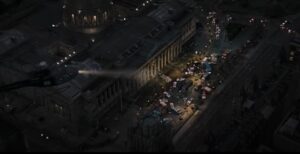 Speaking at DC Fandome, a virtual DC fan event held during the pandemic, director Matt Reaves was asked which city is behind the inspiration for his Gotham.
He said: "In our case it's actually going to be Liverpool and the idea is to go to Liverpool, where there is all the foundation of the Gothic architecture and then add all of the more modern structures through CG."
Fantastic Beasts and Where to Find Them (2016)
A spinoff from the Harry Potter series, Fantastic Beasts and Where to Find Them used Liverpool's iconic archaeology as a setting for 1920s New York.
While most of the film was shot on a green screen at Leavesden Studio in London, viewers recognised St Georges Hall appearing in establishing shots. They also filmed inside St Georges Hall, which was transformed into a setting for US rally.
The interior of The Cunard Building was also transformed into the iconic New York Department store Macy's.
Fast and Furious 6 (2013)
The long running action franchise came to Liverpool in 2012 to use Queensway Bridge as part of a car chase, despite the car chase actually taking place in London.
Cast members such as Vin Diesel, Paul Walker, and Dwayne Johnson spent four days in Liverpool shooting this section of the car chase.
Captain America: The First Avenger (2011)
Another film that transformed Liverpool into 20th century New York, this superhero film shot one of their major set pieces in Liverpool as Stanley Dock doubled as a New York submarine dock.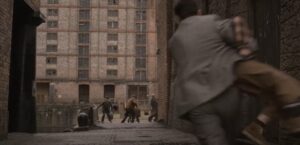 Lynn Saunders, from the Liverpool Film Office, said in an interview with The Location Guide in 2011: "Stanley Dock is undeveloped and has a distinctive 1850s Victorian look with broken windows and cobbles. As a red-brick building it convinces as New York with little effort and as it's an inland dock it's easy to lock it down for filming purposes."
Chariots of Fire (1981)
This historical sports drama about the 1924 Olympics used multiple locations in Liverpool and Wirral to recreate locations in both England and France.
Liverpool Town Hall was the setting for the British Embassy in Paris, while the Oval Sports Centre in Bebington doubled as The Colombes Olympic Stadium.
There have been many other films too such as Harry Potter and the Deathly Hallows (2010), Creed (2015), and Sherlock Holmes (2009).
There will be no doubt we will see more films using Liverpool for future projects.